The biggest rivalry in the world is not between the Yankees and the Red Sox nor the Dodgers and the Giants, but between Ford and General Motors (with Dodge thrown-in to add a little spice to the mix; I was going to write "spicy meat balls" but only media savvy folks of a certain age would understand the reference to Fiat/Chrysler ... get it now?).
And nowhere is that mad dog, go-for-broke enmity more powerful in the auto business than between the full-size pickups built by all three of those companies. In markets which are traditionally friendly towards Asian imports (Southern California, Florida, Texas and etc.) one might see a few more Toyota/Nissan Tundras and Titans on the street, but a lot of them seem too pretty to be heading back and forth from a work site; more likely Nordstrom's.
American workers and business owners like, nee love, their American trucks. That's all there is to it. And when companies have been developing their products for around a century-or-so, buyers can't be blamed for opting for experience rather than what might seem the flash-in-the-pan "pretty boy" import.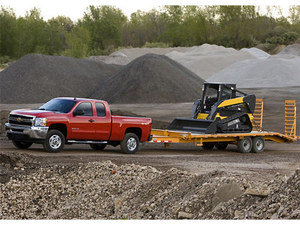 Silverado brings a friend to the party
GMC's Sierra 2500HD 4WD Regular Cab SLE pickup for 2011 is not all-new this time out (as are some pickups from some main competitors), but sometimes, for customers, experience and high-refinement can make for a sort-of "ultimate" expression in sheetmetal, mechanicals and capabilities just before a new model hits the streets.
Also, GMC has done updates are in some important 2500 areas: A completely new fully boxed frame for added rigidity and strength and new suspension components for a more comfortable ride.
And the big news for work truck buyers: 2011 GMC Sierra 2500HD can haul over 3,700 pounds of payload and tow up to 13,000 pounds, standard (16,500 pounds with a fifth-wheel connection).
This new Sierra can be had with either a Vortec 6.0 Liter gasoline engine (which you oldtimers ... like me ... will remember used to be expressed as "389 cubic inches" as it was in the original Pontiac GTO) manufacturing 360 horsepower and 280 foot pounds of torque or a Duramax 6.6 Liter V8 diesel. That oil-burner churns out 397 horses and ... get this ... a massive 765 pounds of torque, quite literally enough to tear pavement off the street when hitting one of those tar-based expansion joints. And when not even trying! Honest!
That heavy-duty engine and six-speed automatic transmission (and it's a real transmission, also marketed as HD, or heavy-duty, and not one of those CVT jobs, thankfully) play well together and the 3.73 ratio in the rear axle allows full use of engine power, no matter which powerplant.
And that's a main point potential buyers must understand: Sierra 2500 (like Ford's F-250 and the more powerful Dodge models) are workers, not movie-goers. These are trucks you buy to haul not only tools and apparatus and components but also the occasional race car or who-knows-what.
As far as handling, the Z85 handling and trailering package helps put Sierra up high in the air and able to handle about as much off- as on-road trash as you can throw at it. On the road, like all other pickups of this ilk, it's not as comfortable as a Cadillac but certainly light years ahead of what trucks were offering, say, just a decade back.
And this is a work truck, make no doubt about that. This is not the truck in which to pull up to a fancy restaurant or the opera, unless you've got almost two tons of beef in the bed for a delivery or all the sets for Aida to drop-off.
You just don't jump into 2500 after a lifetime in Malibus, Miata MX-5s and various crossovers ready to drive. It's like the old music joke: "How do I get to Carnegie Hall?" and the punchline is, "Practice, practice."
This vehicle's height, huge horsepower, ridiculous torque, a somewhat modified-though-workable stalk-mounted shifting system, very high ride height and side mirrors and A-pillars which block out the world make this an all-new experience for most drivers; keep this in mind before buying (and for all trucks of this size and above). But options like heated and cooled seats, Bluetooth, topline audio and a nav system, among other comforts, should make the average driver quickly feel somewhat at home.
Our gasoline-fed tester, at $38,645, came replete with a 36-gallon gasoline fuel tank (as are all GMC 2500 models); mileage has not yet been announced officially but we estimate it to be somewhere around 13mpg average city and highway, on a really good day. But don't take our word too faithfully; wait for the EPA numbers.
Inside and out, Sierra (and all pickups) have been through clinics and focus groups so much that if I were to even slightly imply that the truck's exterior and interior are nothing short of perfect, I'd be highly-targeted by GMC-lovers everywhere (or, "Terminated with extreme prejudice," to paraphrase Harrison Ford's single-or-so line in "Apocalypse Now" ... go ahead, check the credits!).
It's why I usually don't get into vehicle appearances, inside and/or out, gauges, switchgear, audio and the like unless there's really something badly wrong with any of them; it's almost always a completely subjective thing, especially with a working vehicle).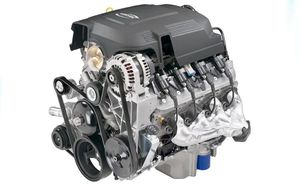 And GMC has truck-building experience. They've been around in one iteration or another since 1901 and today make pickups, SUVs, vans, light-duty trucks, and medium-duty trucks. In the past, GMC also produced fire trucks, ambulances, heavy-duty trucks (including monster 16-wheelers) , military vehicles, motorhomes and city buses.
And are pickups, as some say, old-school? Just remember the success of NASCAR's Camping World Truck Series, one of the sport's three professional-level series, which has created real excitement on certain circles (and certain road courses). This even though everyone knows the vehicles on the track are basically NASCAR stockers using bodies which look, at least, a little like pickups.
And that traditional Big Three rivalry continues unabated on the track.
As with all trucks of this size and strength, there's probably a dealer (from another truck-maker) down the street who will sell you about the same truck, similarly-equipped, for $100 less than your usual dealer is charging.
But in this patriotic and loyal realm, where prices and dealer margins are so close, many people make their buying decision based on past relationships, not just perceived value. And about any way you look at it, this GMC 2500 Sierra stands up to the toughest truck-centric scrutiny --- that of those who actually use their truck as a tool along with their belts, compressors, ice chests ... and race cars.
Follow Steve Parker on Twitter: www.twitter.com/autojourno