It's cool when a car-maker consistently rides the big ones, surfing the next wave upon wave of technology while still trying to keep some of their corporate heritage in the mix.
It takes planning and super engineering skills. Those of you who read me regularly (and thanks, by the way!) might know I feel there are three true engineering companies mixed-in among the Asian car-makers. Those would be Honda, Mazda ... and Mitsubishi.
And Mitsubishi has done it again with their Outlander crossover, appearing first in Japan in 2001 and now in its second-generation of manufacture.
For over a week we lived, worked and drove (and moved!) in the Outlander SE and it acquitted itself more than professionally. It even demonstrated, as we've found more and more with Mitsu cars and crossovers, a quotient of fun which the company obviously works hard to develop and include in their vehicles.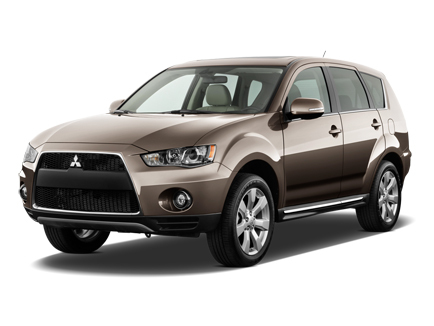 Outlander SE looks great, has one of the best interiors Mitsu has ever brought to these shores and weighs-in at just a tick over 3,500 pounds (3,600 with the available third row of seats).
"Adding lightness" to our Outlander were a lot of high-tech, lightweight parts and the kind of attention to detail you'll find only from an engineering company which also happens to make cars and trucks.
Those parts include large ones (like the entire roof panel) and small bits and pieces, like the magnesium paddle shifters for its six-speed CVT. And aluminum makes up most of the entire engine, a 2.4 liter I4 double overhead camshaft affair producing 168 horses and 167 foot pounds of torque.
And we're not talking McLaren-level attention to weight loss, but we're also talking about a test car which cost well under $30,000 with most optional equipment included in the bottom-line price, and EPA estimates of between 21 and 25 mpg.
I never came close to that kind of mileage, and the reason was typical for this segment: Our Outlander was desperately under-powered. Using the shift paddles or the gate shifter for maximum launch (and even keeping up with long uphills at freeway speeds) was more than just exciting and fun; too often, it was a necessity.
Now, a bit more of a lesson on "why to get the bigger engine."
XLS and GT Outlander models get a 3 liter single overhead cam unit making a much more respectable 230 horsepower and 215 pounds of torquie-ness. And those models weigh only about 200 pounds more than our SE tester and ES base model, so a shopper has to seriously consider stepping-up to the V6 at buying time. Getting the big engine and best AWD system when it's time to buy will have those units almost always pay for themselves when it comes to trade-in time.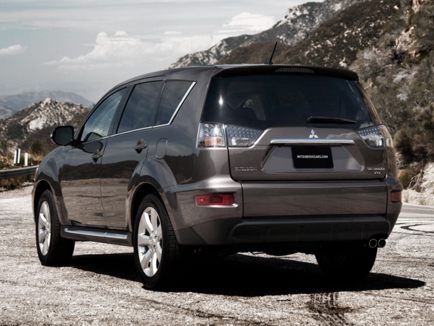 Speaking of real off-roading, one of the best Outlander features is a locking four-wheel drive system which gets the same amount of torque and horsepower to all four wheels. This gives the vehicle (and driver and family) the best chance of making it through the deepest, sloppiest stuff on earth and headed towards the freeway and home.
This feature, while it makes so much sense on paper and seems like it should be almost a given for any off-roader, is rarely found these days because of its cost and complexity and weight (three things car-makers try to avoid at all costs ... to save costs). Its near-universal absence reminds us why CVT transmissions are almost the majority of auto-shifting units found even on off-roaders. When you run into a real four-wheel drive system like the one available on Outlander, respect it ... and the company which includes it on their rock-crawler.
I think this 4WD system by itself is going to sell a lot of Outlanders. But has anyone ever heard of something called a manual transmission? Might be worth a try ...
Overall 4-banger SE performance is tepid; Outlander looks a lot better than it goes. With the now-standard-issue Audi-like grille and rear LED exterior lighting, this Mitsubishi is just different enough to claim a spot in your memory. Some critics may say it's all a bit too much and too busy to feel truly "comfortable" and to be easy on the eyes. But that's why styling criticism is always a purely objective exercise.
Inside, switchgear was where it should be and there was little time necessary to "learn" Outlander; it all felt quite natural and comfortable. On the same note, gauges were large, well-lit and easy to read. HVAC, audio and other system controls were nicely intuitive and felt correct as far as position and ease of use.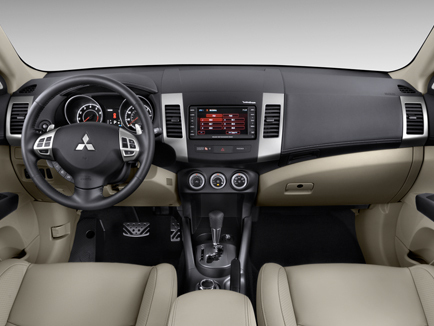 And there's plenty of interior room. All Outlander models have the same 72.6 cubic feet of stowage space, measuring the area behind the front seats.
Boy, this is starting to get a little boring, isn't it? Don't worry ... I'm about to tell some insider stories and things'll pick right up. You know how it goes with me ... Just hang in there, ok? Imagine how I feel ... I wrote this stuff!
The suspension is nicely engineered for both on- and off-road travel and Mitsu has tried to keep the horsepower/torque numbers in usable ranges. But when you start out underpowered to begin with, it's hard to make up that deficit no matter how nice and hip the inside and outside might look. I'd trade 30 more horsepower for some of Outlander's flashy "surface excitement" in a second if it were possible (and Mitsu folks --- it IS possible, and your buyers might really like it!).
And the interior, by crossover and especially Mitsu standards, is excellent. Colors and comfort feel good inside Outlander; there's more leather stitched-in than ever before, the seating is much better than in the past and you can take long off-road excursions, and you can get out of the car without feeling like those ol' kidney stones have come back. And the available third row of seating is as comfortable as it would be in any vehicle this size (which means: not much, anyway).
And if you get the idea that Mitsu interiors have long been considered among the weakest in the business, you'd be right. By those standards, Outlander has bypassed previous Mitsu interiors by, literally, leaps and bounds. They're finally hitting on all 4 (or 6).
When I was an editor at Petersen's Four Wheel Off-Road, way back in 1980, one of the perennial favorite trucks around the office was the Mitsubishi Montero, perhaps the closest thing to a real Jeep ever made by any Asian car company (well, if you don't count Toyota's blatant rip-off of the Land Rover/Range Rover, which the Toyota boys called the Land Cruiser).
Damn rugged, good-looking and a survivalist of the first degree, Montero quickly gained a solid reputation among the "real guys" of off-roading, the kind of folks who drove from Orange County out to Joshua Tree by themselves and started the sport of rock climbing ... on wheels. Tough guys in tough trucks.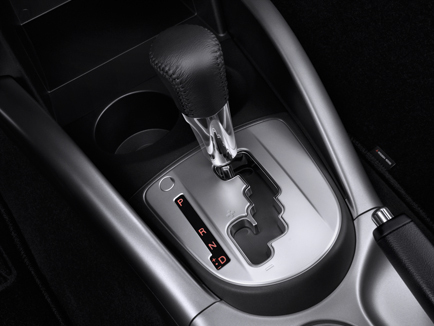 In fact, one of my first solo four-wheel lock excursions was taking a Montero through a dry riverbed which ran through Joshua Tree (Google it) for about 20 miles or so and provided just about every off-road challenge and escapade possible for dirt rookies and veterans alike. I was a little tired and shaken when it was all over, but avoided any flat tires, damaged sheet metal (except for a few scratches from creosote bushes and the like) but man, was I ever impressed! It's those kinds of experiences which make driving so damn rewarding and unforgettable (in case any of you were wondering why some of us like driving so much).
By the way, in those days, locking the front hubs meant literally stopping the truck, getting out and manually twisting the wheel hubs and physically locking them into position. No automatic push-button controls in those days, my friends. As James Brown would have said then: This is a man's world!
One of off-roading's classic experiences way back when was ending the four-wheel drive segment of the drive and getting back onto hard pavement, headed, naturally, for the nearest In 'N Out Burger. And forgetting to unlock the front hubs. Man, those things made noises you couldn't imagine!
But Outlander, which, while not as tough as the real-truck Montero, has a lot of the spirit and features of that original truck which established Mitsubishi as an off-road power (Montero, aka Pajero in some markets, is still the winningest truck ever in the history of the Paris/Dakar Rally, the event the Pope himself decried as murderous and uncivilized ... but, apart from Ferrari and F1, just what does he know about motor racing?).
How different is 2010 from 1980 when it comes to off-roaders? Today, Mitsubishi doesn't offer any true trucks for the dirt sports, only their two crossovers; Outlander is the smaller one and Endeavor is the larger (with starting pricing around $30K). Outlander base prices at right about the $20K level.
Montero was so popular (it saw four generations of new models) that Dodge took a chance on the two-door model, selling it domestically as the Dodge Raider (and those of you who knew that from memory, without having to Google or Wiki it, get a free bear claw and cup'a coffee at the next early Saturday morning trucker gathering ... just tell the folks at the donut stand I said it's okay and they should hand it over).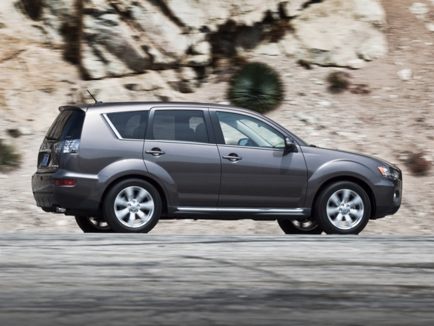 The two-door, with its short wheelbase, was directly comparable, many said, to the classic Jeep CJ (aka Wrangler) with its go-anywhere attitude, style and capability. Raider existed for just three seasons, from 1987 through '89. Remember, these were still the days when a US car-maker selling a rebadged Japan-made car or truck was not exactly politically correct. It was taking a chance on Dodge's part but ultimately I think everyone was glad they did it.
I don't know if we'll be saying the same thing in 30 years about the Outlander, but in a world of too-alike and too-boring crossovers, with overwrought interiors all trying to out-velour each other, Outlander is a fun, good-looking, safe and capable off-roader with the kind of true four-wheel drive system which almost no one offers anymore.
And at a more than reasonable price, too.
Follow Steve Parker on Twitter: www.twitter.com/autojourno