Ever wonder why, with all those "red light cameras" installed across the nation, no city involved in using them has reported any big decrease in accidents at the affected intersections or even any significant income gain? In fact, in Los Angeles yesterday, it was revealed, after a city-wide audit, that the 32 red light cameras installed throughout Los Angeles have actually cost the taxpayers some $2.6 million just the past two years.
You'd think that with the tickets in the LA program costing around $500 a pop, there'd be at least a little spiff for some city program...like for the city's desperate school system or the libraries which Mayor Antonio Villaragosa has shut down.
Incidentally, San Diego has also decided to take action against the installers and maintainers of their red light camera system, having experienced some of the same problems Los Angeles has just revealed.
In one fell swoop, Los Angeles found out yesterday that almost 1/2 of all red light tickets go unpaid with the driver not needing to fear any reprisals, that the placement of LA's red light cameras was purely decided on a political, not a safety, basis and that the city gets only about $150 from the $500 tickets (those that are paid) with the rest going to the state and the majority going to the company which installed and maintains the red light camera systems.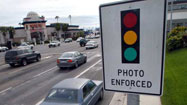 According to Rich Connell in yesterday's Los Angeles Times: "Some 45% of Los Angeles' red-light camera tickets are currently unpaid, partly because holds are not placed on driver's licenses and vehicle registrations for unsettled photo enforcement infractions, Los Angeles officials said Wednesday.
The disclosure came as City Controller Wendy Greuel issued an audit finding the photo enforcement program bypassed some of the city's most dangerous intersections and is costing the city more than $1 million a year to operate, despite fines and fees that can exceed $500.
LAPD officials said they learned during the audit that the state Department of Motor Vehicles has not been forcing payment of delinquent red-light camera fines during license and registration renewals. Other types of unpaid citations typically must be paid before renewals are granted, noted Police Chief Charlie Beck, who appeared with Greuel at a news conference under a downtown red-light camera.
It was not immediately clear why red-light camera tickets would be treated differently, although one LAPD official noted motorists do not sign promises to appear in court when photo citations are issued. A DMV spokesman said he had to check into the matter.
Continue reading "LOS ANGELES SAYS: "IT'S OFFICIAL - RED LIGHT CAMERAS DON'T WORK!"" »