The horrific racing accident which took place this past weekend in the desert of Southern California now ranks among the top 10 racing disasters of all time.
Eight people were killed when a fully-outfitted off-road race truck took a jump at, more or less, 60mph, then, for some reason, lost control. The driver was not injured but he knew some of the people he and his truck killed.
My first thought when hearing of the crash was, "Well, this was only a matter of time. Now it's actually happened."
First a few facts: The race was run on Federal land controlled by the Bureau of Land Management. It was sanctioned and approved by all the necessary parties. The promoter, an outfit called Mojave Desert Racing (MDR) is, understandably, circling the wagons and getting ready for fines and lawsuits which will almost certainly put them out of business. Unless they have a $100 million insurance policy to cover themselves.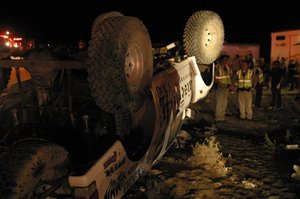 Authorities investigate the scene of the crash which killed eight spectators
Continue reading "WHO'S REALLY RESPONSIBLE FOR OFF-ROAD RACE CRASH WHICH KILLED EIGHT?" »