Last week we asked, based on conclusions drawn by a Wall Street Journal auto industry reporter, if Toyota had been right along with their contention that "driver error," and not electronic gremlins, was the main culprit behind thousands of owner claims of "unintended acceleration." Not to mention the hundreds of injuries and even several deaths which are claimed to be the result of known problems in Toyota-built vehicles, cars and trucks both.
Readers responded with their own thoughts on what could now be called "the Toyota scandal". It appears that, among this blog's readers, at least, the majority of people responding felt there was something wrong with these Toyotas and that owners were possibly being left out in the cold with Toyota's claims of driver error.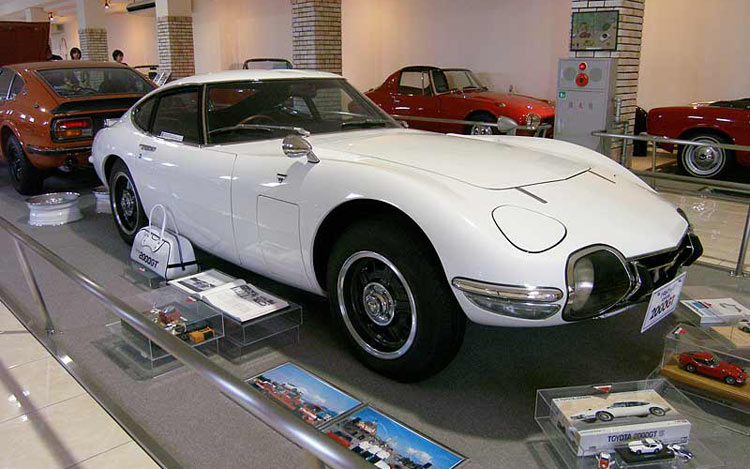 Toyota's 1967 2000GT was campaigned by Dan Gurney's All-American Eagles race team, based in Santa Ana, CA, on road race courses throughout the US; the cars never did very well but did help establish Toyota as a potential road racing power --- which they did indeed become
A report in Tuesday's Automotive News, the world's daily publication of record for the auto industry, would seem to bolster the company's claims ... especially so, considering Toyota says their source for this information is from NHTSA, the US' agency of record when it comes to automotive safety.
Here's what Automotive News said:
"Brakes weren't applied by drivers of Toyota vehicles in at least 35 of 58 crashes blamed on unintended acceleration, U.S. auto-safety regulators said after studying data recorders.
The National Highway Traffic Safety Administration also saw no evidence of electronics-related causes for the accidents in reviewing the vehicle recorders, known as black boxes, the agency said today in a report to lawmakers.
The preliminary findings bolster Toyota's contentions that there's no evidence of flaws in electronic controls on its vehicles and that motorists in some cases confused the accelerator and brake pedals.
Toyota, the world's largest automaker, has recalled more than 8 million vehicles worldwide in the past year for defects such as pedals that stuck or snagged on floor mats.
"At this early point in its investigation, NHTSA officials have drawn no conclusions about additional causes of unintended acceleration in Toyotas beyond the two defects already known -- pedal entrapment and sticking gas pedals," the agency said in the report provided for a briefing to lawmakers in Washington.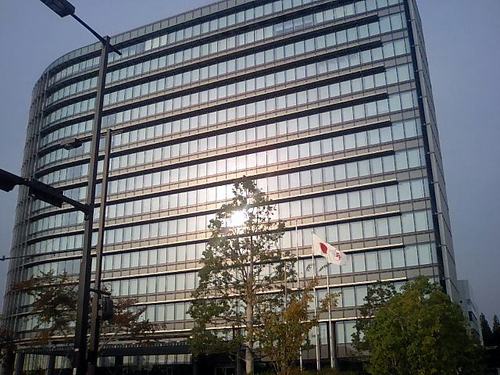 Toyota's Tokyo headquarters building, in the Bunkyo area of that city, has heavy imput from Toyota's corporate HQ in ... where else? ... Toyota City, outside Nagoya, Japan; the lights there have been burning in Toyota City all night of late
In addition to the 60 percent of cases where brakes weren't used, NHTSA cited accidents in which the brakes were applied partially or the data recorder failed.
Toyota has conducted more than 4,000 on-site vehicle inspections, and said today it has not found electronic throttle controls to be a cause of unintended acceleration.
"Toyota's own vehicle evaluations have confirmed that the remedies it developed for sticking accelerator pedal and potential accelerator pedal entrapment by an unsecured or incompatible floor mat are effective," the company said. "We have also confirmed several different causes for unintended acceleration reports, including pedal entrapment by floor mats, pedal misapplication and vehicle functions where a slight increase in engine speed is normal, such as engine idle up from a cold start or air conditioning loads."
In all of the cases studied by federal regulators, the driver made an allegation of unintended acceleration.
Of the 58 recording devices analyzed, 35 showed that at the moment of the crash impact, the driver hadn't depressed the brake pedal at all, safety officials said. Fourteen more cases showed partial braking. In another nine cases, the brake had been depressed at the "last second" before impact.
The government's preliminary examination also said there were a handful of other crashes where the brake was pressed early and released, or in which the brake and gas pedals were pressed at the same time. There was one case of pedal entrapment by a floor mat.
In five cases, NHTSA said, the electronic recording device failed to work.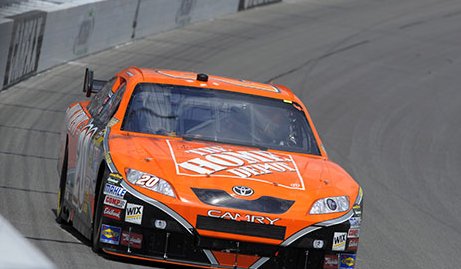 Toyota entered big-time American racing with their entry into NASCAR; here's Tony Stewart driving a Joe Gibbs Racing Toyota Camry; these cars are now at a par with Chevy, Ford and Dodge in Sprint Cup events
The agency is continuing its review of Toyota defects and is working with NASA, the U.S. space agency, and the National Academy of Sciences to probe the cause of the crashes." (Close of Auto News story)
So how WILL this all turn out? No one wants to jump to conclusions, especially considering that both Toyota and US government agencies are terribly litigious. And no one wants to get caught-up in what I think will be a long and international court battle between the entities involved.
But there still is freedom of the press, at least last time I checked.
Given that, what's the next move by either Toyota and/or NHTSA? We all knew this would be solved (or made more involved) in the courts. I know people from Toyota and NHTSA (and more) read this blog and this is kind of a back-door way of giving your opinion directly to the participants; as if we're Switzerland or Finland --- that usually and officially secret third party in negotiations about, for instance, the Middle East --- and we're shuttling messages between the two main parties.
So now's your chance! What happens next? And why? And are you happy with it? And how should we treat NHTSA's report which seems to take Toyota's claims of "no electrical problems" with even less than a grain of salt?
Listen and join-in with Steve Parker every weekend on www.TalkRadioOne.com ... Visit that site to find out local showtimes in your area!

Follow Steve Parker on Twitter: www.twitter.com/autojourno