Join us Saturday at 11am Pacific /2pm Eastern for THE CAR NUT SHOW and Sunday at 5pm Pacific/8pm Eastern for WORLD RACING ROUNDUP on www.TalkRadioOne.com! It's just us and it's all LIVE!
Steve Parker's The Car Nut Show
Saturday starting at 5pm Pacific
Well, how did you and your family enjoy the first Classic Car Appreciation Day? Did you miss it? Too bad, because it was yesterday! To go over what happened around the nation and continues to happen this weekend we'll speak with Ethan Landesman from the Specialty Equipment Market Association, SEMA, which made the whole thing happen. Plus ... new Toyotas for 2012 revealed, the last PT Cruiser - ever - and Mitsubishis galore! We'll talk about all that and more! Please join in! The call-in number is: 213-291-9410.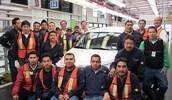 Workers surround the final production PT Cruiser coming off the assembly line

Steve Parker's World Racing Roundup
Sunday starting at 5pm
JC Agajanian, Jr., scion of the racing Agajanian family (they've won the Indy 500 - twice!) is scheduled to join us and we'll talk IndyCars, NASCAR and the upcoming Legends of Ascot event commemorating the many years of Ascot Park Raceway in Los Angeles (the Agajanians ran the place for decades). Plus race results from around the world and your phone calls! Join us! The call-in number is: 213-291-9410. Join in!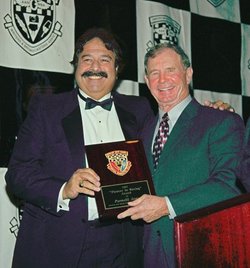 JC Agajanian Jr., (l) with the family's second Indy 500 winner, Parnelli Jones
Podcasts of the shows are available one-hour-or-so after the live programs' conclusion. That's this Saturday at 11am Pacific and 2pm Eastern and Sunday at 5pm Pacific/8pm Eastern on www.TalkRadioOne.com!
Follow Steve Parker on Twitter: www.twitter.com/autojourno