The truck which challenged millions of drivers to sit way up high, go off-road and inspired an entire generation of too-big vehicles in too many hands, is back in an all-new iteration.
Yes, there's an all-new Ford Explorer for 2011. First introduced in 1990, Ford has sold a total of more than 6,000,000 Explorers and that, as they say, ain't nothin' to sneeze at. The 2011 Explorer goes on-sale next winter.
It's the sixth generation of America's by-far favorite SUV, with new looks, new engines, a four-wheel drive "terrain management system" and other new features which should attract public attention. And Ford is touting Explorer's fuel economy as a major selling point, claiming the new 2011 Explorer has "best-in-class fuel economy" among all similarly-sized SUVs sold in America.
New engines replace the familiar 4.6L V8 and 4.0L V6 which have been available for several seasons now.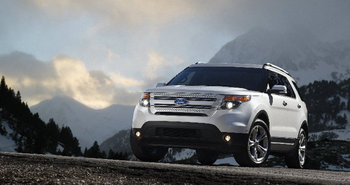 Ford's 2011 Explorer goes on-sale in winter of next year; Ford is purposely taking a long time to tell the story of their important new entry into the class because there are a lot of major structural, engine and drive changes
The new base 3.5 liter V6 Explorer produces 290 horsepower (and 255 ft. lb. of torque) and will sell for $28,190 (about $40 less than a comparable 2010 model) with the high-zoot XLT trim model starting at $31,190 and the snazziest Limited version hitting the showrooms at $37,190.
Ford says expect to be able to tow 5,000 pounds with the V6 engine. That's more than almost every towing measurement for the 2010 Explorer. One V8 package for the 2010 model allows towing of 7,115 pounds, but those days seem to be over for Explorer. Why? Because though Ford touts the 2011 Explorer as a true SUV, it's really a crossover; more on that later.
No actual EPA figures on mileage as yet, but for the V6 Ford says Explorer will "deliver an anticipated improvement in fuel economy of more than 20 percent versus the current Explorer," which averages 16mpg city/highway with the 2010 4.0L V6 Explorer, which would put the 2011's mileage around the 19mpg mark.
No prices as yet announced for an all-new-for-Explorer turbocharged 2.0 liter inline four-cylinder Ecoboost engine, but most think it will be even more expensive than the base V6 version, given the technologies and development costs involved. Horsepower for the I4 is "projected" by Ford to be around 237 with 250 ft. lb. of torque. No word yet on towing ability for the I4.
Ford does say mpg delivered by the new I4 is "Estimated ... (to) improve by more than 30 percent (current V6 Explorer), putting the fuel efficiency ... in line with sedans such as the 2010 Toyota Camry V6." Camry's mpg figure 22.5mpg.
All Explorers will come with a new six-speed automatic transmission, separate ones having been developed for the V6 and I4.
No word yet on the weight of the 2011 model; the 2010 XLT model more than tips the scales 4,455 pounds, which isn't the lightest though certainly not the heaviest SUV out there. But it is a lot for 290 horsepower and under to handle; we'll have to see in a test drive if the torque in either new Explorer is enough for the vehicle to have any real get-up-and-go or haul us out of steep, sticky terrain where the "4x4 Only" signs are found.
Inside and out, Explorer looks familiar yet much more modern, something buyers should expect at these prices. The signature Ford horizontal grill is a stand-out, and even I'm getting used to it. Explorer continues with the ability to seat seven humans (some necessarily smaller than others to make them all fit) in three rows of seating.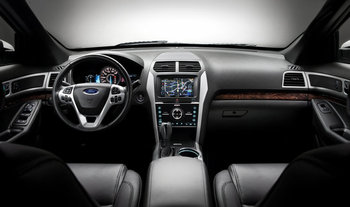 Explorer's new interior for 2011
Now for the "intelligent 4WD terrain management system," (their words, not ours) the optional all-wheel drive unit available on Explorer.
In Ford's words also, "Explorer offers both front-wheel-drive and intelligent four-wheel-drive (4WD) variations to provide optimized traction in mud, sand or snow, and Class III trailer-towing capability.
"Terrain management gives the driver a choice between four settings on a center console-mounted knob. Each setting has a unique engine calibration, throttle command, transmission shift schedule, traction and stability control calibration - all optimized to a range of driving situations. The four settings are normal, mud and ruts, sand, and snow."
Traditionally, "four-wheel drive" vehicles have included those which have a "low" setting, gearing the drive wheels down to a literal crawl which, in theory, would allow the truck to practically climb a vertical wall - or get over the biggest boulder in the California desert. The term "all-wheel drive" has been used for vehicles which have simply "in" or "out" controls to get power to all four wheels.
Until we drive the new Explorer, we can't tell you if it is more like a 4WD truck or an AWD crossover.
And that's another thing: is the new Explorer a "truck"? From its inception, Explorer has had a body-on-frame platform, the same as Ford pickups and other trucks. Explorer for 2011 goes to the now-more-common unibody set-up, crossover-style, where the frame and body are combined. Again, we'll have to drive Explorer on- and off-road to see if the new unibody holds up to what previous Explorers offered as far as real off-road talent. Ground clearance drops on Explorer from 8.3 to 8.2 inches, nothing major but a possible hindrance for serious off-roaders.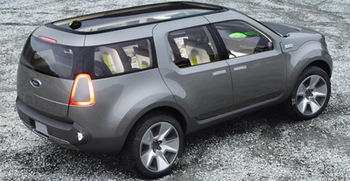 Concept for the 2011 Explorer, seen at auto shows and called "America"
Since 1990, Explorer's sales numbers work out to about 300,000 units sold annually, more than 800 sold each and every day. And many months out of those years the company topped that daily number, heading into the 1,300 range.
I was once told that after the tooling and development costs were paid off for the original Explorer, Ford Motor Company banked a cool $15,000 to $20,000 for each one sold. Multiply that by 365 and then by 20. And to keep costs down, through the years the Explorer remained built on a body-on-frame chassis, truck-style.
Explorer, though, has been a major accomplishment anyway you look at it.
Ford has one of the best car and truck line-ups currently available anywhere. While every car-maker expects sales of their larger vehicles to go down this year and into the future, Ford expects to make up those possibly lost sales with their Fusion line and the all-new Fiesta. They seem to have all bases covered (though their Lincoln line could be more attractive and Mercury is now history).
Ford's not alone with this strategy. GM, which has at least as many big and mid-size trucks as Ford, will be offering the small, fuel-sipping Chevy Cruze compact, the sales announcement coming literally any day now. And Chrysler's new owner, Fiat, is bringing their popular 500 small car to the US next year.
What about these major changes to Explorer? Does the unibody manufacturing turn you on or off? And what about that I4 in an off-roader? Has Ford built a minivan and renamed it Explorer?

Follow Steve Parker on Twitter: www.twitter.com/autojourno