Join us Saturday at 11am Pacific /2pm Eastern for THE CAR NUT SHOW and Sunday at 5pm Pacific/8pm Eastern for WORLD RACING ROUNDUP on www.TalkRadioOne.com! It's just us and it's all LIVE!
Steve Parker's The Car Nut Show
Saturday starting at 11am Pacific
What we'll be covering: General Motors announced the price of their VOLT extended-range hybrid EV which goes on-sale in just a few months...A Wall Street Journal reporter writes about and broadcasts apparently false claims about Toyota...Toyota announces another huge recall of a half million cars in the US. And the completely all-new 2011 Ford Explorer! Is it now still a truck or just another crossover? We'll talk about all that and more! Please join in! The call-in number is: 213-291-9410.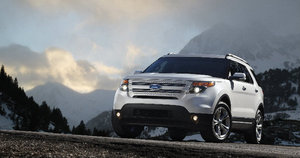 All-new 2011 Ford Explorer goes on-sale near the end of this year
Steve Parker's World Racing Roundup
Sunday starting at 5pm
This weekend is packed full of motorsports action worldwide and we'll cover it all! Formula 1 is in Hungary and IndyCar gets ready for its appearance next weekend at Mid-Ohio. But the big topic is how F1 and IndyCar both treated fans like fools as both series manipulated who won their races last week. It's NASCAR Sprint Cup and the Camping World Trucks at Pocono this weekend and the NASCAR Nationwide Series goes to Iowa. Plus race results from around the world and your phone calls! Join us! The call-in number is: 213-291-9410. Join in!

The Ferrari F1 team caused a lot of commotion last week ... we'll tell you why
Podcasts of the shows are available one-hour-or-so after the live programs' conclusion. That's this Saturday at 11am Pacific and 2pm Eastern and Sunday at 5pm Pacific/8pm Eastern on www.TalkRadioOne.com!
Follow Steve Parker on Twitter: www.twitter.com/autojourno