It looks the little EV maker who could has done it again.
Just a few weeks after announcing an infusion of $50 million from Toyota, and a deal with Toyota to re-open the New United Motor Manufacturing plant where Teslas will be built, the company, headquartered in San Carlos, CA, today became the first U.S. carmaker to launch a public stock offering in 54 years. The stock surged almost 41 percent in its first day of trading even as broader markets were plummeting.
Tesla finished the day with a gain of $6.89, to $23.89 a share. Tesla, the electric car company that counts Daimler and Toyota among its shareholders, raised $226 million selling shares Monday above its forecast price range.
The maker of the $109,000 electric Roadster bought by Brad Pitt and George Clooney started trading on the Nasdaq Stock Market under the ticker TSLA.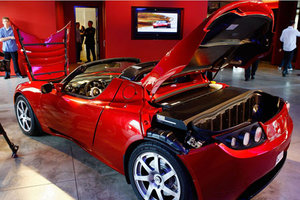 A Tesla dealership in trendy West Los Angeles, CA
The company will go through a fair chunk of 2011 without any products for sale, thanks to tooling changes at a supplier. Production will resume only in 2012 when the mass-market Model S comes online.
Tesla founder Elon Musk, a creator of PayPal, was in New York today and said his company could be profitable if it continued to make pricey sports cars, but is instead forgoing income to build a car aimed at mass-market commuters.
"A lot of people were puzzled about why we were going public without profits," Musk, dressed in jeans and an unbuttoned shirt, told reporters outside the Nasdaq building in Times Square, near several Tesla Roadsters.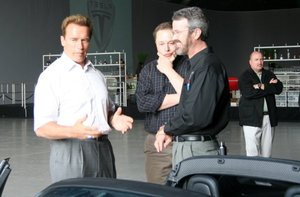 Tesla founder Elon Musk with California Governor Arnold Schwarzenegger; the small car company has deep ties to big money as well as influential politicians
"The reason we are not profitable today is because we are in the midst of expanding with the Model S," Musk added.
Model S is a luxury electric sedan it plans to launch in 2012 and to sell starting from $57,400.
The IPO was the first by an American car company since Ford Motor Company in 1956. Until that time, Ford was owned exclusively by members of the Ford family.
General Motors is planning their own IPO to get the company back in public hands and out of the White House. The company has put a big push on new models for overseas markets in advance of the stock offering, expected at the end of this summer.
Follow Steve Parker on Twitter: www.twitter.com/autojourno