STEVE PARKER'S THE CAR NUT SHOW
Saturday, 2/27, LIVE @ 11am Pacific/2pm Eastern on www.TalkRadioOne.com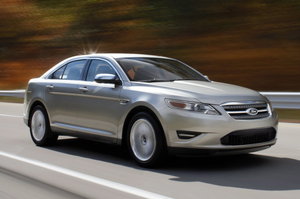 Ford's 2010 Taurus breaks new ground with a car considered revolutionary when it hit the market for the first time in 1985 as a 1986 model.
Ford's all-new 2010 Taurus and Fusion hybrid... Steve's driven them both extensively and he'll talk about them on today's show! Like low-production number cars built by small companies for high-performance? A new California law would allow more of them on the highway. And the United States Senate has declared July 9, 2010 as "Collector Car Appreciation Day." So, uh, what's up with that? Plus your calls --- 213-291-9410!
STEVE PARKER'S WORLD RACING ROUNDUP
Sunday, 2/28, LIVE @ 5pm Pacific/8pm Eastern on www.TalkRadioOne.com
Steve's special guest: Motorsports journalist and ex-IndyCar driver Kurt Hansen. He knows whereof he speaketh ... Plus: Gearing-up for the Indy 500, the Monaco Grand Prix, F1's signature event, and all of NASCAR is at Dover! Plenty more so you be sure to join in at 213-291-9410!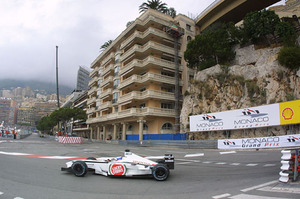 Defending World Driving Champion Jenson Button takes a lap in a BAR Honda a few years ago at Monaco. This week marks the 60th anniversary of the very first round of the FIA Formula One World Championship, which was held at Silverstone (UK) on May 13, 1950. The British Grand Prix, which also had the title of 'Grand Prix d'Europe' bestowed upon it that year, was the first event in a seven-race season, which also featured rounds in Monaco, Switzerland, Belgium, France and Italy, plus the Indianapolis 500.

Follow Steve Parker on Twitter: www.twitter.com/autojourno