Tesla to Downey, CA - Drop dead!
If you're driving through Downey, CA, I wouldn't recommend driving a Tesla. A dream of Downey leaders to re-open an old Apollo spacecraft facility in their city, just south of Los Angeles, where Tesla told the city they wanted to build the cars, has fallen through.
And many in Downey are pissed.
Tesla buys cars from Lotus and ships them to the US where they are retro-fitted with electric motors and batteries for their all-electric sporty car. They have another, larger car planned for next year.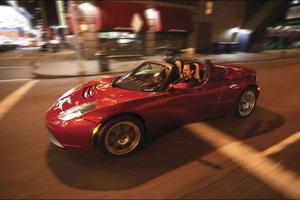 Tesla EV Roadster
Downey was once at the center, like much of Southern California, of American aerospace manufacturing. The city boomed from the '50s through the early '90s when the country's space program lost much of its funding and seemed to lose its own dreams for the future.
So when Tesla and Downey made the announcement recently, after nearly a year of negotiation, that an old space capsule plant would be re-opened for Tesla to build their EVs, a lot of people thought it a good idea. More than 1,000 Downey-area people could be hired in an area which has been hard-hit by the recession.
Downey and Tesla were to sign their agreement last Friday, May 21st, and city leaders were looking forward to the ceremony as an early Christmas - and a sure way to guarantee their re-elections.
Last Wednesday, the civic leaders of Downey were in Sacramento, lobbying for and getting much of the approval and money they needed to lure Tesla to town, retrofit the facility, make changes to historic buildings (space is history in So Cal) and went home happy.
So on Thursday, about 24 hours before the Downey city council was to vote on the final agreement with Tesla, an AP reporter called a councilperson and asked what he thought of a press conference held earlier that day in Sacramento with Tesla officials and Gov. Schwarzenegger.
"What press conference? I thought we were making the announcement together here in Downey, not at Tesla headquarters," thought one councilperson who appeared on the KPRW Santa Monica daily news show "Which Way LA?" hosted by veteran award-winning So Cal newsman Warren Olney. Tesla's Chairman, Product Architect and CEO Elon Musk appeared on the show as well. Both were cordial to each other and the councilperson admitted that from a business standpoint, Toyota had made Tesla the proverbial offer they couldn't refuse.
Tesla had made a stunning announcement - just six weeks after Toyota president Akio Toyoda placed a call to Musk, Tesla announced that Toyota was going to infuse some $50 million into the EV-maker. Teslas are going to be built at a car plant in Fremont, CA (just south of San Francisco), which was shared by Toyota and GM, a plant recently closed down, putting some 5,000 mostly-union workers out of work. The plant, called New United Motor Manufacturing Inc. (NUMMI) was a joint venture between the two auto giants, with Toyota running the plant, making Tacoma trucks and Corollas and GM building Pontiac Vibes there, too.
The plant is a monstrous 5.5 million square feet and fully-equipped with automotive assembly lines. Toyota gets some good press from their investment and plant re-opening (1,000 people may be hired initially) and will learn more about EV technology and maybe share some of their knowledge with Tesla. Elon Musk, is now on the big map as far as mass-produced EVs are concerned and so is California. Toyota might come up with a challenger for the soon-to-be-on-sale Nissan Leaf EV.
The only loser here is Downey and the people there who thought they might be getting new gigs in the green economy. Was it bad faith negotiating on Tesla's part? Or just business? What do you think? When will the first lawsuit from Downey be filed? Things were a lot simpler when Downey was mostly known as the home of Karen and Richard Carpenter.
Los Angeles Times - Toyota does it again
In yesterday's Sunday edition, the lead story on the LA Times' front page was yet another expose' by writer Ken Bensinger about Toyota failing to notify the public about a serious problem. Bensinger has broken much of the big news about the Toyota scandal and we predict a Pulitzer for him and the paper this year.
The piece says Toyota, through their Lexus division, never publicly acknowledged or reported to the government about a serious problem with the automatic transmissions in their 2002 through 2006 Lexus ES300 sedans.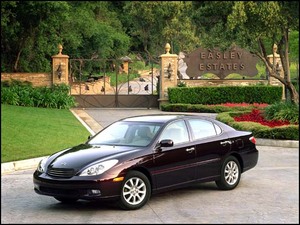 2002 ES300
Apparently, according to the article, Toyota/Lexus issued what's known as a "secret recall" and possibly a Technical Service Bulletin (TSD) to their dealers. What this essentially means is that if an ES300 owner came into the dealer and complained specifically about the transmission problem, the dealer could then fix or replace the transmission and get paid by Toyota for the service. But if an owner never said anything, the car wouldn't be fixed by a dealer. The transmission problems reportedly included hard shifts, surging and unintended acceleration.
Is Toyota playing business as usual? Or had their arrogance grown so great that they felt they had no responsibility to report potential serious safety problems to the public at all? What do you think? Where will this all end?
Car dealers exempt from proposed consumer agency
One of the more consumer-friendly parts of the proposed laws surrounding the world of money in this country is the creation of a new watchdog agency to oversee companies which make consumer loans.
But don't expect car dealers which make loans to buyers to have to report to the agency.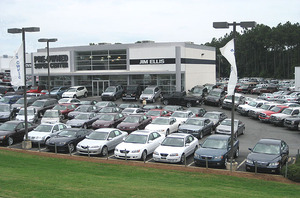 Automotive News reports today that dealer groups prevailed in a U.S. Senate vote on whether to exempt dealers from oversight by a proposed consumer finance agency.
The Senate voted to recommend to its leaders that they agree to the exemption in a conference committee with House leaders.
The non-binding vote today was 60-30.
Senate and House leaders will meet in weeks ahead to reconcile differences in the financial regulation bills that passed the two chambers.
The House measure included a regulatory exemption for dealers who are arranging consumer loans. The Senate bill did not contain such an exemption.
What can you say about something which appears so blatantly to profit and protect dealers and not give car-buyers use of an agency whose jobs it is to oversee consumer loans? What do you think?

Follow Steve Parker on Twitter: www.twitter.com/autojourno