Ford's on a roll, no doubt about it. They're making profits, Motor Trend named their entire Fusion line-up 2010 Car of the Year, Mustang continues as a legend which still sells and the Taurus is back - to stay.
All-wheel drive, a near-400 horsepower version and an unexpectedly plush and high-tech interior are all part of the all-new sixth generation Ford Taurus for 2010. Taurus is one of Ford's best-selling cars ever with over 7.5 million of them leaving showrooms since its introduction in 1985 as an '86 model. Incidentally, Motor Trend's Car of the Year in 1986 was that all-new first-generation Taurus.
After a week in a 2010 Taurus SEL, we can see why Ford is successful. Taurus is a great example of the company's no pretensions style, making honest cars and trucks in which most Americans, from 16 to 60, can feel right at home. Inside and out, a "just right" combination of US, Asian and European styling, engineering, comfort, handling and performance make this latest (and best) Taurus a true World Car (though in truth it's too large for some major markets).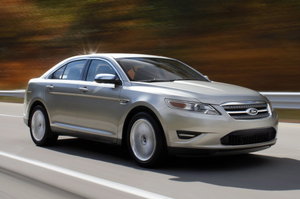 Here's something you don't read every day: the 2010 Ford Taurus is fun. At least with the paddle shifters which can run you up and down through all six gears in fairly rapid succession. It's not Ferrari-shift fast but for a classic American road car the system is more than acceptable and adds some unexpected but welcome panache for the driver who wants to think he's in something better and sportier than, er, a Taurus.
The suspension is that familiar combination of trade-offs which results in potholes becoming terrorists, though brake dive has been nicely engineered out of the equation. Overall handling isn't as crisp and clean as we'd like, but we'd also like to drive an $80,000 BMW. For a mid-size, mid-price car in the most crowded part of the market, Taurus offers just enough sporty weekday handling to satisfy someone whose weekend car might be a MX5 or Corvette.
Our SEL model offered 19" wheels as an option. Stopping your car today will be four-wheel anti-lock disc brakes. While there's a traction control system for the front wheels, we were able to easily beat it with the car either in "drive" or using the paddle shifters. We got more torque steer and tire squeal than we expected - and we hate surprises. But once you get used to it and get it under control, it can make for a fun exhibition at the Stop Light Grand Prix because the Taurus can beat just about anything off the line for the first 150 feet with judicious shifting and a heavy foot.
Taurus exhibited about as much "push," or understeer, as a Honda Accord, which says a lot about the car's engineering. Like Accord, Taurus feels quite neutral through corners, rarely exhibiting any of that "Why won't the front wheels turn?" tendency of front-drivers when hitting a curve a bit too fast. The AWD models will inherently feel very neutral while cornering.
The original Taurus carried a lot of influence from Ford's overseas units. Taurus designer Jack Telnack, who would go on to become global Vice President of Design for the company, served as chief designer for Ford in Australia (1966) and Europe (starting in 1974).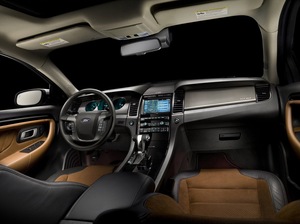 Taurus was a wild, radical car for its time. Rounded, with what Telnack called a "jelly bean" or "flying potato" shape, the car had more in common, appearance-wise, with Euro sedans like the Audi 5000 and Ford's own Tempo than anything from the US or Japan. It looked slick and it was; its wind-cheating design made for a very quiet interior and also helped with fuel economy. Taurus was different; it was hip.
And it came not only as a family sedan and a station wagon, but also, starting in 1989, in a high-performance version called Taurus SHO (Super High Output) with a V6 engine built by Yamaha.
Don Petersen, who headed Ford from 1985, made use of Jackie Stewart, the F1 champion who was a Ford consultant (and still is) and encouraged all the company's top executives to enroll in a racing school to learn the potential of fun and excitement with cars.
In the mid-'80s there was a real question as to whether Ford's US unit would remain viable, that the Euro and Oz markets would be the ones to concentrate on. But the Taurus, Telnack, Petersen and and the Wee Scott (Stewart) literally saved the company's US operations.
Though 2011 Taurus (Tauri?) are hitting Ford stores right now, the main difference between them and the 2010 SEL FWD we tested is price. The 2010 cars start around $25K and grow to the SHO at $35K. 2011 prices are about $1,000 more on all models. And SHO is back with us for another generation, all-wheel drive standard and available on SEL and Limited model. Our SEL tester came in just a tick over $30,000, as will almost any Taurus no matter how conservative the buyer wants to be.
Fit-and-finish throughout is as good as anything we've driven lately, certainly in this busy price range. The exterior is clean and while we'd like a more aggressive front-end, for a family sedan Taurus cuts a pretty sick swath. The front grille carries the new Ford design DNA but the car gets a bit boring from front to rear, as if the designers ran out of money as they worked their way back. This isn't the first time this has happened in car design; just check out the passing parade.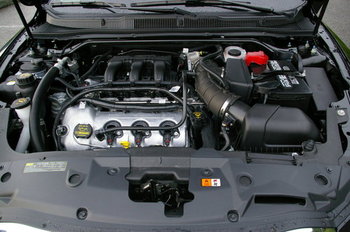 All four doors open far and wide making getting in and out a simple affair and allowing for easy stowage of large items (we got a new baby seat - in its huge box - into the back seat in one easy motion; and thanks for the congratulations). Taurus continues with a huge trunk with a relatively low lift over making putting things in and taking them out that much easier.
Rear seat passengers will find themselves unexpectedly comfortable in a car of this size as long as there are just two of them. This is really a four-seater and not for five.
Front seats are separated into two pod-like areas with the center stack "waterfall" and center console separating the driver and passenger. One feels a bit like being in a race car --- or a space capsule --- in Taurus' front seat. It's a tight, confident feeling which probably makes the car feel likes it handles better than it does, but engineers could still dial in more leg- and knee-room and I'm only 5'5".
The leather-trimmed heated seats on our car were excellent for support and comfort and the car's HVAC system (heating, vent, air conditioning) was truly a blast. American car-makers learned decades ago that when we punch a button we expect to be frozen or cooked in seconds.
Switchgear, gauges and controls are quirky, with that now industry-wide and typical combination of buttons, knobs, dials and seemingly whatever else was lying around the warehouse when the car came down the line. It's all easy to operate once you get over the initial intimidation. The Sync system is there for entertainment fun and when in reverse gear the rear view from the car is shown in a corner of the rear-view mirror. Nice, smart touch.
Audio is just okay - the system wasn't as loud or as brassy as I would like, in spite of the fact we had the optional 390-watt Sony machine. But this is a family car and the lowest common denominator is sometimes going to creep into Taurus more often than not.
Keeping to Ford tradition, the new Taurus keeps the headlight switch on the lower left side of the instrument panel, meaning only one stalk (turn signals, high-beams, wipers) jutting out from the steering column.
But the button to open the trunk is on the passenger side of the IP (instrument panel), almost directly in front of their seat. That's too much of an obvious afterthought and Ford should move the button to the driver's side ASAP for safety's sake. Some passenger is going to push that button, if just by mistake, while on the freeway and it won't be pretty.
The 3.5L EcoBoost engine in the SHO is the first North American production twin-turbocharged direct-injection V6 and makes an impressive 365 horses and 350 ft. lbs. of torque, all of which explains while AWD is necessary and standard on that model.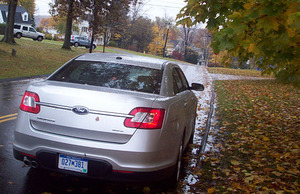 The SE, our SEL tester and the Limited Taurus all come with a less-techie 3.5L V6 which still pumps out a respectable 263 horsepower and 249 pound feet of torque. It all makes for a nice launch, and we Americans love launch!
In spite of the aero styling and attention to slickness, we'd like to see better mileage from Taurus, which averages only about 22mpg city/highway combined. We got nowhere near that, and a big part of the reason is that big V6 as well as the fact that all Taurus models weigh over 4,000 pounds (the sporty SHO comes in at near 4,400).
We will also cop to the fact, though, that we spent more time playing with the paddle shifters more than perhaps the average driver and that didn't help mileage. But making all models weigh north of two tons should not have been a design target.
Taurus was discontinued in 2006, with production initially ending on October 27, 2006 and 2007 being the last model year. And it took three cars to replace Taurus. Ford had decided to replace it with the full size Five Hundred and midsize Fusion sedans, as well as replacing the Taurus wagon with the Freestyle crossover.
Killing the Taurus name was an expensive debacle which should have been predicted and avoided by Ford execs. Getting rid of a legendary name like Taurus is as dumb a marketing move as, well, as Acura getting rid of the name "Legend" ... or something like that.
However, Ford wisely revived the Taurus name a few months later at the 2007 Chicago Auto Show by renaming two new models that were planned to be updated versions of the Five Hundred and the Freestyle the "2008 Taurus" and "2008 Taurus X", respectively. This all-new sixth-gen Taurus was then released for the 2010 model year.
And not a moment too soon.

Follow Steve Parker on Twitter: www.twitter.com/autojourno