Purpose-built track in Austin, TX will host from 2012 through 2021; as we predicted, with Tony George out of the way of F1 and Indianapolis Motor Speedway, an agreement is finally signed.
Courtesy FORMULA1.COM:
Formula One World Championship Limited and Formula One Administration Limited (together, the F1 Commercial Rights Holder) and Full Throttle Productions, LP, promoter of the Formula 1 United States Grand Prix™, announce that a historic agreement has been reached for Austin, Texas to serve as the host city of the Formula 1 United States Grand Prix™ for years 2012 through 2021.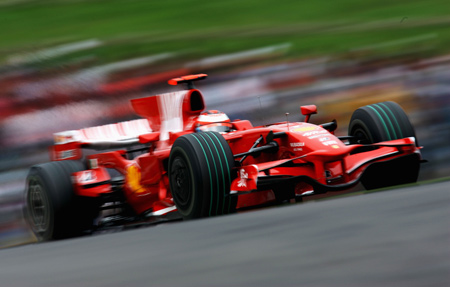 Ferrari at speed at 2009's Japan Grand Prix
"We are extremely honoured and proud to reach an agreement with the F1 Commercial Rights Holder. We have been diligently working together for several years to bring this great event to Austin, the State of Texas and back to the United States. All parties involved have a great amount of trust and confidence in each other and are committed to establishing the Formula 1 United States Grand Prix™ in Austin, Texas as a prestigious global event," stated Tavo Hellmund, Managing Partner of Full Throttle Productions, LP.
Bernie Ecclestone, President and CEO of the Formula One Group stated: "For the first time in the history of Formula One in the United States, a world-class facility will be purpose-built to host the event. It was thirty years ago that the Formula 1 United States Grand Prix™ was last held on a purpose-built permanent road course circuit in Watkins Glen, NY (1961-1980), which enjoyed great success. Since then, Formula One has been hosted by Long Beach, Las Vegas, Detroit, Dallas and Phoenix all on temporary street circuits. Indianapolis joined the ranks of host cities in 2000 when they added a road course inside the famed oval. Lewis Hamilton won the last Formula 1 United States Grand Prix™ in 2007, signalling the end to eight years at Indianapolis Motor Speedway. This however, will be the first time a facility is constructed from the ground up specifically for Formula One in the US."
From JamesAllenOnF1.com:
"There is a major push to bring the USA under the F1 umbrella. The failure of the USF1 team was an embarrassment, but now it seems that there are efforts to resurrect the idea of an American team and You Tube founder Chad Hurley is still linked with this.
Ferrari president Luca di Montezemolo has a better idea, he believes. He said in an interview today that he dreams of a third Ferrari in the stars and stripes colors."
Comments?
Follow Steve Parker on Twitter: www.twitter.com/autojourno