In another potential PR nightmare for Toyota, the company has announced that a steering problem has halted sales of their 2009 and 2010 luxury flagships, the LS 460 and the gas/electric hybrid LS 600h.
On Friday, Toyota recalled 11,500 of the cars, including nearly 4,000 in the US. Today, Lexus stopped selling both models.
Toyota, through their Lexus luxury channel, say they have no solution to the problem, an admitted electronics problem that can cause steering wheels to fall out of alignment for a few seconds at a time.
Owners of the two models have been told to park their cars until the company develops a fix, which Toyota says should happen sometime in late June.
According to the Los Angeles Times, which broke the initial unintended acceleration story, owners of the cars -- which have a starting price of about $65,000 for the LS 460 and $108,000 for the hybrid LS 600h -- will be receiving official notice of the recall in the mail next month.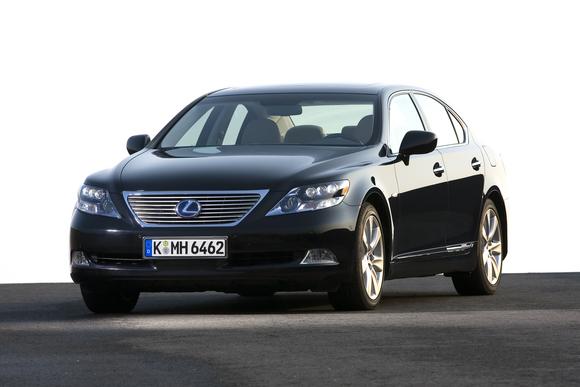 Lexus' LS 400h hybrid sedan starts at $108,000.
The sales stoppage and recall cover cars equipped with the company's variable gear ratio steering system that's an option on the LS 460 and standard on the LS 600h.
Sales stoppages over safety concerns are rare in the auto industry, but in January Toyota ordered dealers to stop selling eight of its best-selling models after reports of unintended acceleration. That sales halt, called because the company had no remedy for the problem, lasted about two weeks.
The Lexus sales stoppage is expected to last longer. Toyota does not have a solution to the Lexus problem, which can cause the steering wheel to get stuck in a turned orientation even though the car is going straight. The steering wheel, however, can still be used to steer the car.
How should Toyota handle this one? They have absolutely blown it so far with their alleged cover-up of the unintended acceleration (UA) problems. The company eventually stopped sales of eight models and recalled some six million cars worldwide for what Toyota said was a sticky throttle cable. Many still insist that the UA trouble stems from an electronics glitch in the company's "drive by wire" system, and several US government agencies and contracted firms are involved in finding an electronics problem.
Now, with an admitted so-far-unfixable steering dilemma which is purely electronic, we say there will, and should, be more pressure on Toyota to stop worrying about their image and focus on finding and fixing these problems.
Are we right? Is Toyota spending more time ducking the truth and not working on unintended acceleration and other problems?
Follow Steve Parker on Twitter: www.twitter.com/autojourno