Boxcars.
Kia's Soul, Scion's xB and Nissan's Cube. What else could you call them but Boxcars?
And you either love them or hate them - at first sight.
These have become important cars to Gen X and Millenials. Soul, the newest entry, and its hamster commercials were recently judged the most effective TV spots in the car industry; xB is larger and some say better-looking than when it first appeared in 2004 as one of the first two Scions (xA was the other) and has gone through two major renovations. It's also received lots of bolt-on and add-on pieces which let the owner try to make as much of a distinctive statement as you can with a mass-market car.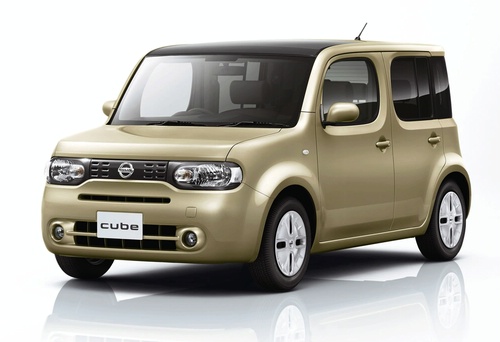 The under-30 generation appreciates form following function, and nerdy, geeky styling with lots of windows to let people see in and the ability to carry almost all your band's equipment was an immediate hit. These cars are the little league versions of the Range Rovers their mommies drive.
Cube remains most dedicated to the original concept of these vehicles: a box which you can fill up with stuff and get it all from one place to another with the least amount of hassle. And do it all with some style, a lot of fun and boomin' audio.
Since its May, 2009 U.S. introduction, Cube has been built at Oppama, Japan, one of the biggest automotive manufacturing complexes in the world.
With its chopped-top appearance, Cube still keeps true to the integrity of the box shape. If the top were made of softer material, it would be a legitimate Carson Top; probably not something Nissan designers had in mind when developing Cube.
Definitely different for America, cars and trucks with this shape are almost standard issue throughout Asia, where the roads demand narrow and tall cars and delivery vans. Car designers and stylists must be ingenious in how they move people and their cargo from Point A to B with the least amount of hassle (and fuel).
All three of these boxes feature front-wheel drive and four-cylinder engines with a decided leaning towards the not-very-fast-nor-powerful side of the equation. You can make them look Boy Racer, but they're never going to drive Boy Racer.
And all three companies are selling these car-based vans about as fast as they can build them. Nissan sells just over 3,000 Cubes in a good month while Kia moves just under 3,000. Biggest year for segment-leader xB was 2006, when Scion sold 61,306 of the itty-bitty boxes, over 5,000 a month. Its 2009 sales were 25,461 which translates into just over 2,100 units a month.
And of course buyers want them to stand-out on the road and their driveways.
People who buy the priciest cars want the neighbors to know all about it. No one wants to spend $100K or more and not have everyone know what they spent and how successful their cars make them appear. Some say this was the initial sales problem with Corvette's first ZR1; it was much costlier than a stock 'Vette but didn't look the part to the untrained eye. Why spend the money if you're ego doesn't get massaged?
In their styling target of being as unsexy as possible, Boxcars also have a low cost (under $20K). This is a repudiation, by young Boxcar buyers, of the guy down the street who just bought the new Baby Rolls.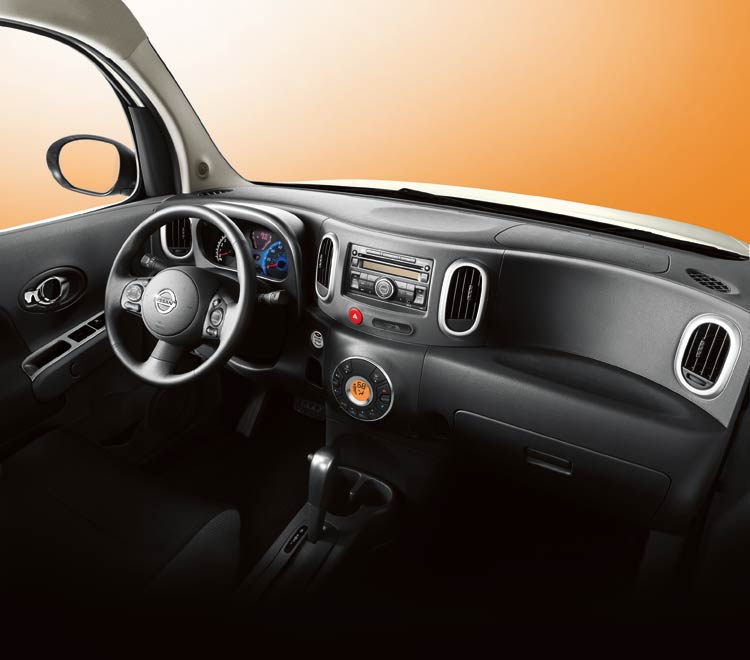 Nissan's 2010 Cube iteration has a throbbing 122 horses made by a massive powerplant displacing 1.8 liters. Cube's engine is just a tad smaller than the Honda Gold Wing motorcycle's 1,832cc, which is a bit over 1.8 liters. And the Gold Wing's motor is a flat six, like a Porsche engine, while Cube has (and will always have) an anemic four-banger; not too different from Soul's and xB's offerings. If insurance companies saw too much power coming from these Boxcars, most of their target audience wouldn't be able to afford a policy.
Cube is burdened with a CVT (continuously variable transmission), though it does a pretty good job of emulating a six-speed stick. Drivers can use  paddle shifters on the steering wheel to "change gears" (which you don't really do with a CVT, but that's another story).
Car makers love CVTs because they're cheaper to make and much less complicated than conventional automatics, they get better mileage than automatics and they're cheaper and easier to fix than automatics. I've never liked them because they are noisy, slow-as-molasses to accelerate and unless your CVT has that auto-emulation thing going on, using engine torque to slow the car is hard. Or nil.
So forget about straight-line performance. Cube makes only 122 horses, Soul 142 and Big Bad Boy xB, OG of the Boxcar world, produces a class-winning 158 horses from a 2.4 liter four-cylinder engine (compared to 108 horsepower from xB's first generation).
Cube is lightest of the three with a curb weight of 2,821 pounds. Soul comes next at 2,875 and xB remains the heavyweight champ, not always a good thing, with a hefty total of 3,091 pounds. In testing by Motor Trend, xB won the ¼-mile in 16.4 seconds at 82.6 mph, Soul was next at 16.7 and 81.3 and Cube came in last, wheezing through the ¼ in 17.2 seconds and 81.3 mph. Cube is EPA-rated best among the three Boxcars.
The choice between Cube's full auto tranny or an emulating six-speed shifted via the floor-mounted unit or steering wheel paddles makes for a fun drive on the right kind of road; try Sunset Boulevard from Hollywood west to Santa Monica for one of the best drives in this country, if not the world. You'll go right through Jan and Dean's Dead Man's Curve, and pass Beverly Hills, Bel Air and fly by UCLA and soon after hit Pacific Coast Highway (where a meal at Gladstone's is a must).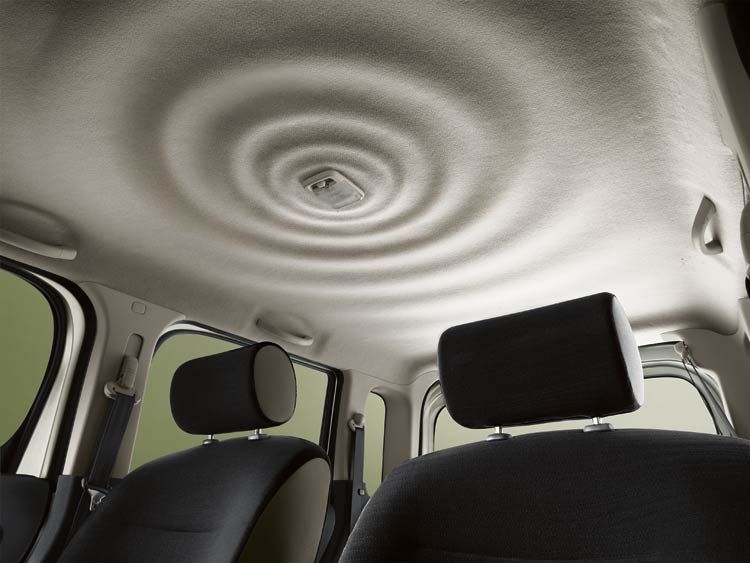 If you ever get the chance, take the drive, even in a FWD car if need be. That way you'll get first-hand experience with understeer. It's what they call in NASCAR "push" - when the steering wheel is turned but the front wheels don't follow. NASCAR drivers describe the phenomenon as "when you see your crash through your windshield."
And handling? Braking? Steering? Let's just say it's "adequate" on all three vehicles, not particularly better or worse with Cube compared to its competitors. There's the torque steer you'd expect on take-off, though with these low horsepower/low torque engines you'll never be surprised by a Boxcar pulling strongly in one direction or another during the Stop Light Grand Prix.
As experienced FWD'ers will recognize with any of the three, understeer enters into the driving equation. With their top heavy, high center of gravity stance and understeer, Boxcars might seem to some good candidates for rollovers.
Cube does rate four stars in frontal crashes, five stars (the max) in side crashes, front and rear seats and four stars for rollover danger and protection. Those numbers are good and drivers will develop their own driving styles best suited to safety for this unique people-movers.
Cube's best point is without doubt its interior. Front buckets are comfortable enough and supportive; Cube is as noisy and distracting inside as you'd expect from a $16,000 five-seater with good cargo capacity.
Liberal use of mouse fur (especially on the high-and-wide headliner) and some neat-o styling touches like rounded window corners make Cube an interesting design study from inside or out. Gauges and switchgear are well-placed and -lit. The HVAC controls turn and lock into position with authority but the audio system calls for a bit more button-pushing than we think necessary. There's a lot going on inside Cube, from removable rear speaker covers to that swing-out rear door, from that weird piece of carpet on top of the dashboard and a he windshield which offers probably the best visibility of any small van --- ever.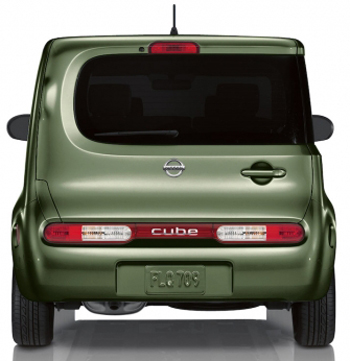 So when there's a lot going on, there's a lot which can go wrong or need improvement. Fit and finish is good throughout the car but not as good as on, say, a Maxima or Infiniti Q-ship.
Our tester came in, optioned out, at $17,650. For that Cube offers a lot of room, a unique look and a well thought-out cabin which integrates people and their cargo (and even pets) in very smart and new ways.
There will be more Boxcars coming our way and until the perfect one arrives, Cube is a very reasonable facsimile.
On my scale of one to five, four tires and a spare: Nissan's 2010 Cube rates a four for freshness!
Follow Steve Parker on Twitter: www.twitter.com/autojourno