Let's kick-off our road test series with the 2010 Buick LaCrosse, an all-new car which is one of the prime examples of how far American-made car quality and attention to detail has come. And I see nothing wrong with sometimes rooting for the home team, especially when it's well-deserved.
Buick has had growing sales (comparing month-by-month to the past year) for six straight months and in March sales were up an impressive 76%.

And collaboration between designers in the United States and China, in partnership with the GM's Pan Asia Technical Automotive Center (PATAC) as well as chassis and body engineers in Europe, has resulted in the first General Motors vehicle to be created on three continents.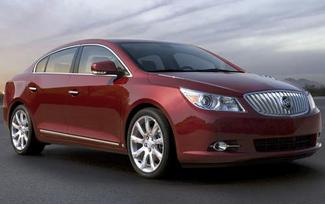 Buick's 2010 LaCrosse is a perfect competitor for the Lexus ES 350 and Chrysler 300 (which is pretty long in the tooth), thanks to its looks, a choice of three direct-injected engines, optional Haldex all-wheel drive (on CXL) and a healthy mix of standard and optional interior gadgets, including in-dash nav, rear entertainment system and a rearview camera.
Another thing LaCrosse has over the Lexus is its styling. Buick says the car's styling, a continuation of what started with their Enclave cross-over, is "seductive and uninterrupted". That may be so to some eyes, but I find LaCrosse's appearance to be aggressive and powerful, not quite intimidating but certainly muscular for a pretty big four-door sedan. The Chrysler 300? We've seen it for a long while now; nothing really new. And Lexus makes a point of not changing styling on an annual basis; they know their buyers don't like a lot of change in existing models.
Two design cues harkening back to Buick back in the day is the large grille with vertical louvers. In years past people would say about Buick's signature big grille that, "I don't know whether to drive it or shave with it."
The distinctive Buick portholes are back, too Now they're found next to the engine compartment on the inside top of the fenders.
You have three engine choices: for the first time in a decade, Buick offers a four-cylinder engine standard on the CX. It's a direct injected Ecotec 2.4L which pumps out 182 horsepower. The CX has a new 3.0L V-6 powerplant which make 255 horsepower. The high-zoot CXL comes with a 3.6L V-6 liter providing 280 horses. All engines are direct injection, which increases power and mileage and can decrease pollutants. Six speed automatics come on all three cars and they have a center console stick with a now-taken-for-granted tap-to-change-gear feature found on so many cars and trucks (no paddle shifters, though).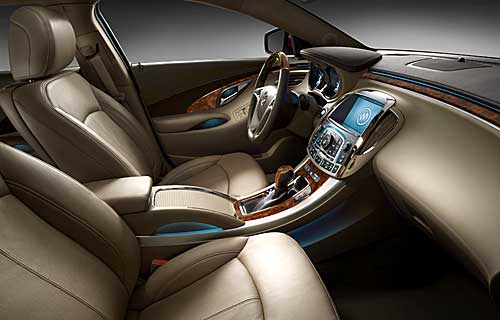 For 2010, only the 3L CXL model will have AWD available; in 2011, the CXS standard with the 3.6 V-6 will have the option. That'll do away with any nasty understeer (more later).
Buick will stop offering the 3L V-6 in North American LaCrosses at the end of the 2010 model year, leaving just the four-cylinder and the 3.6 liter V-6. The reason for killing the 3L engine is that the 2011 model will now be able to offer all-wheel drive paired with the direct-injection 3.6-liter
LaCrosse 2011 models start production on June 14th of this year and will be available about six to eight weeks after that. If it were me and I had the kick I'd wait a few months for the CXS AWD.
Inside, it's Buick-level plush and quiet, and that says a lot. It has one of the best dashboards, switchgear, gauges and driver positioning in the industry. It's all very easy to use and quite instinctive. Most people will feel right at home in the driver's seat in just a few minutes. Precise detail and fit and finish inside (and out) shows GM is paying attention to details which the old GM would have let slide. "Ship it and let the dealer fix it" was the long-time GM mantra and thankfully those days are gone.
Driving LaCrosse on either the 17" (CX), 18" or optional 19" wheels is mostly a pleasure and can be fun. Front-drive cars sometimes have a lot of torque steer, also called understeer, what NASCAR drivers call "push". You've experienced it, too, every time you adjust the steering wheel at moderate or higher speeds and it seems the front wheels simply won't turn. Engineers worldwide have done a good job of reducing this phenomenon (especially Honda) and LaCrosse, while it has its share of understeer, is fairly predictable and controllable. If you want no understeer, order the AWD option.
The HiPer Strut front suspension, standard on the CXL, is a modified MacPherson strut system which allows the car to launch without too much understeer. The HiPer Strut suspension will come standard on all 2010 CSX models produced after May with no price increase.
The car, despite its luxury look, feels taut and surprisingly sporty. Fuel mileage, GM says, ranges between 17 and 26 mpg depending on the engine ordered, though I found my mileage quite a bit lower. Around town mileage was between 12 and 15 mpg, and on the open highway was in the 21 to 23 mpg category, but not 26. The 2.4-L is EPA-rated 30 mpg on the highway and 19 mpg in the city. Still all fairly impressive for a 3,929 pound automobile (yep, just a tad short of two tons).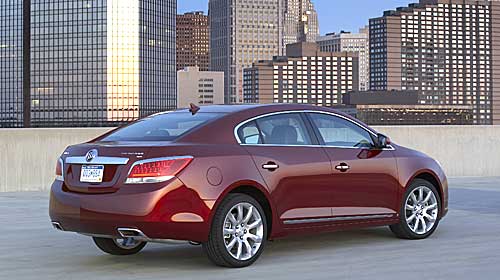 Base price for the 4-cylinder is $26,995, for the V-6 CX $27,835, $30,395 for CXL and $33,765 for the top-line CSX with the big 3.6L V-6. Our tester, a CSX with a sunroof, Xenon headlamps, heads-up info display and optional paint, Red Jewel Tintcoat, came in at $36,130.
LaCrosse is built at GM's Fairfax Assembly facility in Kansas City, KS.
Buick was always known as the "doctor's car" because, in the days of yore and house calls, no doctor wanted to pull up to your home in a Cadillac; a Buick was perceived as more conservative, less expensive and more sensible than its big bro Caddy. But they'd take the Cadillac to the country club on Wednesdays (the traditional doctor day off in the old days).
LaCrosse signals Buick sedans are headed into a much higher realm. If this is your kind of car, there's little to complain about, including not much rear seat legroom, the aforementioned torque steer, not the greatest sound system and some other problems. But there's plenty to enjoy, too, and that's right for a car which tops out at nearly $40,000.
Buick may find itself gone at some point, melded into Cadillac (in the 1920s and '30s, Caddy offered a less expensive model called La Salle). I've said that GM should consist of Chevrolet, Cadillac and nothing more. LaCrosse is a car which could make the quality argument for consumers and the money argument for GM to keep the division right where it is. And as I said, nothing wrong with rooting for the home team.
On my scale of one to five, four tires and a spare, LaCrosse rates a 3+ to 4.
Follow Steve Parker on Twitter: www.twitter.com/autojourno