Bob Lutz approved the Dodge Viper while co-CEO, along with Robert Eaton, at Chrysler; does GM have a similar car which can capture the public's attention?
With the Core Four divisions of Cadillac, Chevrolet, Buick and GMC, and with Bob Lutz back on-board, General Motors is now very much on its own.
They don't have the kind of partnership and help which Chrysler will be getting from Fiat and Washington is on-hand only to protect the public's huge investment in the company.
The new smaller, leaner GM corporation, with much less debt than before, now 60%-owned by the American people and newly-emerged from bankruptcy while cutting-back on white collar employees by the scores, begs the question: What now?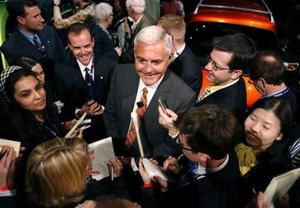 Bob Lutz as he most likes to be ... the center of attention
Industry newspaper Automotive News ran a multiple-choice poll in Wednesday's edition, asking readers: How can Bob Lutz best help GM improve its marketing?
The answers supplied included these four:
- He should mimic Lee Iacocca and pitch GM cars in ads (16% answered yes to this choice as of 6pm Eastern time Wednesday);

- He should make sure that GM's marketing of its vehicles is consistent with their design (40%);

- He should be the public face of GM at auto shows (5%);

- He should carry out his new role in the background and yield the spotlight to younger executives (39%).
Lutz is no stranger to automotive marketing. In his many years in the industry, during executive stints at Ford, BMW, Chrysler and GM, he's often had a hand in marketing, promotion, advertising and sales.
He was there and had a voice when Ford's Explorer SUV and Merkur imports were first suggested, when the successful Chrysler "cab-forward" LH cars, Dodge Viper and Plymouth Prowler were put in-production and at GM he brought the "new" Pontiac GTO and Pontiac G8 from Australia to the US market, for better or worse, along with the Buick Lacrosse crossover and the sporty Saturn Sky and Pontiac Solstice coupes and Chevy Malibu sedan.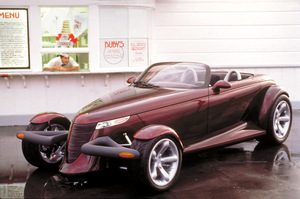 1993 Plymouth Prowler concept
While at BMW, where he worked on the original 3-Series, he dealt with the ad agency which developed the fabulous slogan, "The ultimate driving machine," a winner which Bimmer uses worldwide to this day.
After last week's Detroit press conference where he "unretired" and was named in-charge of GM marketing and advertising, Lutz told reporters that he has, to paraphrase, "(O)ften been a critic of our (GM) advertising, and maybe that's why I got this job. They figure if I don't like it, let's see if I can come up with something better."
Can he come up with something better than the "sale of the week" ads which many local dealer groups run, amidst a hodge-podge of regional and national TV, radio, Web and print ads which seem to have no cohesive message?
Lutz has been talking-up focusing on GM's styling and design, and the company has a strong history in that arena.
GM was the first car company in the world with a dedicated styling department, and the first car-maker to produce a "concept car," the 1938 Buick "Y-job," overseen and built (and then driven almost daily) by the industry's first legendary designer, Harley Earl.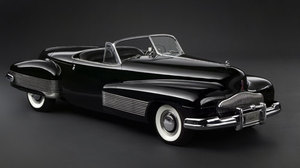 Regarded as the world's first "concept car," the 1938 Buick Y-job
There have also been many slogans throughout the years, from the memorable corporation-wide "GM - Mark of Excellence" to Cadillac's "Standard of the World." Should these be resurrected?
GM advertising has used both photography and artwork through the years, like the fantastical, exaggerated automotive renderings of Art Fitzpatrick and Van Kaufman, particularly of Pontiac's "Wide-Track" models of the '60s and '70s (later mocked by artist Bruce McCall).
But with still so many different kinds of cars and trucks, can GM find one theme which runs through their entire line-up, something which will wake-up the public?
Also, while Lutz says styling must be part of GM's new ad theme, are average buyers so concerned with their vehicle's appearance?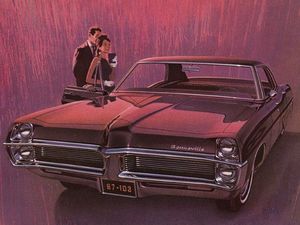 Artwork of a 1967 Pontiac Bonneville by GM's Fitz and Van from a GM print advertisement
Maybe style is a major factor for luxury car-buyers, but for most of us, aren't reliability and quality factors at least as important as looks? Don't bottom-line price and the overall "buying and service experience" trump snappy style? JD Power and Associates doesn't query consumers about "style," but about quality, dependability and value.
Certainly the somewhat bland, appliance-like styling of so many under-$30,000 cars tells us that a product's perceived worth is often more important than design.
So we put it to you: If you were Bob Lutz, how would you begin promoting, advertising and marketing (three quite separate disciplines) the new General Motors to the American public?
Follow Steve Parker on Twitter: www.twitter.com/autojourno