Bob Lutz was vice-chairman at Chrysler when the PT Cruiser was ok'd for production ... but don't hate him for it; maybe it's just the type of vehicle GM needs
General Motors has come out of bankruptcy after a somewhat-biblical 40 days and nights of massive reorganization, as a new, smaller company more than 60% owned by the US government (that's US, as in "us").
Yet GM is stubbornly holding onto Buick and GMC, when the other two of the General's remaining "Core Four," Chevrolet and Cadillac, are all they really need and all that make sense.
It appears, though, that the vestiges of cars and trucks past aren't the only things GM is clinging to: Bob Lutz, 77, has "unretired" and will continue as GM's vice-chairman.
He will head the company's marketing, advertising and communications and have significant input on product design. In February, Lutz had said he would retire by year-end after eight years as GM's product development chief.
In an interview heard on All Things Considered on NPR Friday, Lutz told host Robert Siegel that, "We took our eyes off the ball in the '70s, '80s and early '90s," when it came to product quality.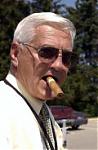 GM Vice-Chairman Bob Lutz
Siegel naturally asked Lutz how the company might overcome more than 20 years of admittedly poor product and with a reputation and market share dropping almost by the minute, and all Lutz could offer was, "Well, none of us were here when that happened."
During the interview, he also managed to work in the usual litany of thinly-veiled anti-union rhetoric; "legacy costs" and the like.
The always-quotable and sometimes-acerbic Swiss-born Lutz, a favorite of reporters, has also been at Ford, BMW and Chrysler --- where he served as one of the top two executives along with Bob Eaton --- is an ex-Marine fighter pilot who collects cars ... and fighter jets.
He may be possibly the last remaining still-active genetic throwback to the revered and storied "GM General Manager," the men who ran the separate GM divisions as their own private car companies, battling the company's board of directors for every last penny for their pet projects --- and constantly fighting each other to be first with the best and the most. The top general manager usually became president of the company (except Chevrolet General Manager John Z. DeLorean, but that's another story).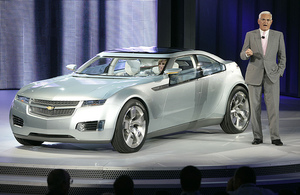 Lutz introduces the Chevy Volt concept
But is Lutz right for this job, at this time?
With CEO Fritz Henderson fast-tracking right out of GM's bean-counting financial world, and the new chairman of the board, Edward Whiteacre, the former AT&T chief who admits, "I don't know much about cars ... but I can learn," who will stand-up for creating and producing world-class products?
I'd say Lutz ... if this were 1967 and gas was 30 cents a gallon.
In our current decade, Lutz shepherded to market the "new" Pontiac GTO and the Pontiac G8, both sales disasters because of their gas-guzzling engines. One could argue that, "Well, they were great cars but the price of oil just went crazy."
But that's the same excuse each of the Big Three have used far too often and for far too long. The GTO and G8 (and to some extent the Ford Flex with its big V6 and of course the Dodge Challenger and too many other Chrysler products) are only the latest examples of the short-sightedness and arrogance of Detroit executives.
Lutz is getting much of the credit for the Chevy Volt, an extended-range gas/electric hybrid which may hit the roads by early 2011. But its predicted near-$40,000 price tag and limited availability already has some analysts shaking their heads, especially when Honda is selling their Insight, a small hybrid sedan, for under $24,000, fully-equipped. And Ford's Fusion hybrid isn't much more.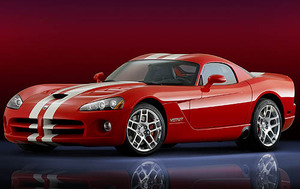 Lutz green-lighted the Dodge Viper for production while at Chrysler
Perhaps the White House and GM should have taken note of story which came out of Louisiana just a few weeks ago. At a former GM plant there, T. Boone Pickens is among the investors in an automotive venture called VVC. When the fledgling company announced their top staff members, their design chief was revealed to be Tom Matano, formerly Mazda's chief designer and the stylist who created the Mazda MX-5 Miata, the world's most-popular sports car. Matano understands small cars, small engines and knowing what the public-at-large wants.
Why doesn't GM shock the industry and wake-up the public by finding their own Tom Matano? Or does Detroit's "Not Invented Here" philosophy still rule the day for what used to be known as Generous Motors?
Is it possible for a 77-year old gentleman to essentially do a complete 180-degree turn from his life experience and philosophy? After all, among Lutz's major claims to fame are green-lighting the Dodge Viper and the Plymouth Prowler faux hot rod.
Can Bob Lutz get the religion necessary for the 21st century automotive world?
Maybe GM's new owners should step in at this point for some major and meaningful executive changes.

Follow Steve Parker on Twitter: www.twitter.com/autojourno