This weekend's WebRadio shows, Saturday and Sunday live at 5pm Pacific time, on www.TalkRadioOne.com:
Saturday, July 18, 2009
THE CAR NUT SHOW
General-interest automotive talk and opinion
Top GM exec Bob Lutz has been UNretired and is back at General Motors as vice-chairman in charge of marketing, advertising, promotion and will have a heavy hand in styling and design. Does this make ANY sense at all? We'll go over what YOU think Lutz can do to save GM ... now that the company is out of bankruptcy and truly on its own. Meanwhile, GM is firing some 400 white collar executives. Fired-by-the-White-House GM ex-prez Rick Wagoner gets a $8.2 million severance package plus $74,000 a year with health and life insurance ... for life, down from an originally-proposed $20.2 million + package! Call-in LIVE and join us on-the-air at 213-0341-4353.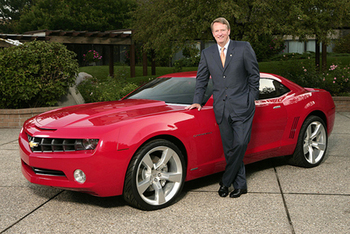 Fired-by-Obama GM ex-prez Wagoner, with 2010 Camaro concept, doesn't have to worry about HIS future
Sunday, July 19, 2009
WORLD RACING ROUNDUP
The name says it all ...
Plenty of racing action around the world this weekend, as Formula 1 greets new winners, the sport's Braun/Mercedes Grand Prix team is finally being challenged in the second half of the season and whether F1 will exist as we know it as soon as next year is still up in the air. NASCAR is battling empty seats, lower TV ratings and the big-time loss of Detroit and other major sponsor money; but 50-year old multi-race winner Mark Martin is the old-guy hero of the season. IndyCar remains a flawed parade/spec series with one of the same three or four winners every weekend, especially on oval courses. What's it all mean? Call-in LIVE and tell us what you think on-the-air at 213-341-4353.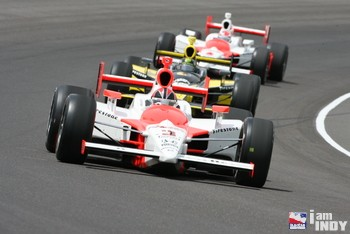 When will a Penske or Ganassi car NOT win an IndyCar race this year? Shown is Helio Castroneves --- as if you didn't know ...

Free podcasts of our shows are posted on www.TalkRadioOne.com usually less than one hour after the live shows conclude.
Follow Steve Parker on Twitter: www.twitter.com/autojourno