(Below, Dodge's Caliber SRT4, which Chrysler thought was just a great replacement for their Neon, which had finally, with the help of the tuners of the world and MOPAR, reached a near-cult-like status. Caliber just didn't do the trick, even with its turbo'd 2.4-liter 4-banger; it looks like what it is: a small minivan).
Chrysler has announced that 30 factories - all of their North American production plants - will close and remain that way until at least January 19th.
In the meantime, the White House says President Bush is still "gathering information and looking at options," with some expecting an announcement this Friday, while two major carmaker suppliers have filed for bankruptcy. Even Bush doesn't want to go down in history as the man who oversaw the destruction of GM, Ford and Chrysler (I hope), and I'd guess President-elect Obama wishes he could install his own new team now and fire Henry Paulson, who is still blocking using any of what's left of the $700 billion TARP (Troubled Assets Relief Program) fund for Detroit.
While GM and Chrysler are busy announcing plant closings across the country, Ford is being aggressive, some say too aggressive, in telling Washington and the public they don't need cash right now, but they do want a $9 billion line of government-provided credit they can draw upon if and when it's needed (GM and Chrysler are both asking for $4 billion before this month is out).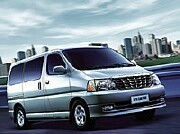 (Chrysler created and dominated the minivan market, but this one is from China's Brilliance carmaker, which will be exhibiting at January's Detroit Auto Show).
Ford walks a fine line in trying to appear a "winner" as far as their products are concerned, but they must do so without making GM and Chrysler look like "losers."
Ford has been placing Bill Ford (Henry the First's great grandson) and CEO Alan Mulally (who Ford hired to replace Bill Ford, who admitted, after a few months of trying, he couldn't run the family business) in front of as many TV cameras as possible; Ford was on with Larry King this week. The company is also being aggressive in trying to get its message out through online social media Web sites like Facebook.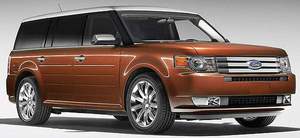 (Ford's Flex, their 21st-century take on the station wagon, looks a lot better in this production version than it did as the Fairlane concept seen at many auto shows two years and more before Flex went into production. A big, thirsty V6 engine meant Flex never stood a good chance of enjoying big sales numbers, though. Ford's luck - and timing - with this car was bad).
Continue reading "WHITE HOUSE STILL "GATHERING INFORMATION" WHILE DETROIT SUPPLIERS GO BANKRUPT" »