It was the opportunity to drive yet another futuristic car, Chevrolet's Volt, this effort by General Motors a magnificent piece of work, especially its gas/electric powertrain.
Smooth as silk, so quiet Rolls-Royce has competition for their Ghost models, Volt could be a remarkable car which captures the attention of the American public; but getting people into Chevrolet showrooms is the real trick, isn't it? If they don't visit the dealer, they can't buy the car.
Volt won't go on-sale until November, 2010, but Sunday morning I drove the pre-production version of the car and spent well over an hour with Volt's Chief Engineer, Andrew Farah. Farah's been with the Volt almost since its inception.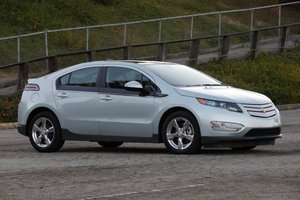 Near production-ready 2010 (it might ultimately get a 2011 model year designation) Chevrolet Volt
We didn't learn too much more about the Volt that we didn't already know, but the chance to drive the real thing spoke much about the car.
So let's take a drive in a Chevy Volt.
Outside, it's a fairly conventional looking five-door hatchback. GM doesn't want to scare any potential buyers away by depending on only the wind tunnel for all the design touches. Design being purely subjective, and although the car expectedly doesn't look much like (or half as interesting as) the Volt concept, GM has hit what many might think a happy medium between too conservative and too far-out.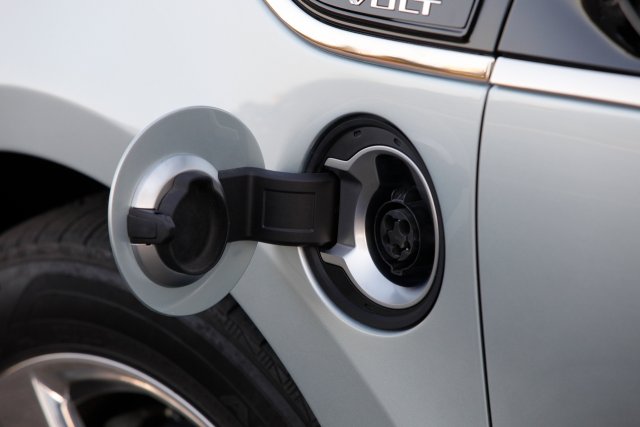 Volt's 240-volt receptacle; there are also a 110-volt plug and a gasoline filler
There are three filler doors on Volt: one is for gasoline, one the receptacle for its 240-volt electric line (GM expects Volt buyers to install the charger at home) and there's a plug for a conventional 110 outlet.
The grille is mostly covered by plastic strips, and the engine/motor get their cooling air, like most modern cars, from under the car. Farah pointed out there are several "heat exchangers" (radiators) in the front of the engine compartment, including one each for the gasoline engine and electric motor, one for the air conditioning system, and more.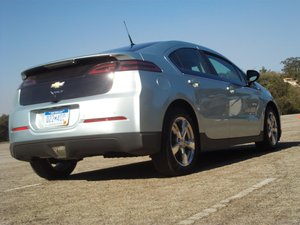 Volt's rear 3/4 view