Join us LIVE Saturday at our NEW TIME - 11am Pacific/2pm Eastern and Sunday at 5pm Pacific/8pm Eastern on www.TalkRadioOne.com for our exclusive LIVE motoring and motorsports talk shows!
NEW TIME! Steve Parker's The Car Nut Show
Saturday starting at our NEW TIME -- 11am Pacific/2pm Eastern
Nissan's all-new 2011 Leaf "pure EV" is making a US national tour starting November 13th in southern California and traveling throughout America until it arrives in New York City – Get all the dates and places and the facts and figures … including price … on the Leaf! Nissan displayed a production version of Leaf at the Tokyo Motor Show last week, becoming king of the EVs and hybrids. Plus Steve's 60-second road tests and your phone calls! Join two-time Emmy Award-winner Steve Parker, also automotive writer for the Huffington Post, NBC-TV auto show Whipnotic and the Santa Monica Daily Press newspaper. Be sure to join-in the conversation: The call-in number is: 213-341-4353.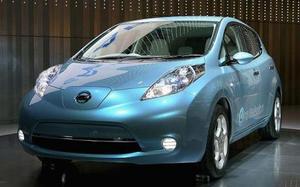 Nissan's Leaf EV, the production version as displayed at last week's Tokyo Motor Show

Steve Parker's World Racing Roundup
Sunday starting at 5pm Pacific/8pm Eastern
NASCAR's Race for the Sprint Cup is hot and heavy – only four races left and today the boys are at Talladega, AL, the fastest oval track in the world. Is the title Jimmie Johnson's to lose? Does the Sprint Cup 10-race, 12-racer play-off system need to be modified even more to make it more interesting and exciting for fans and more fair for the drivers and their teams? The final Formula 1 race of the year happens today in Abu Dhabi at a brand-new track and facility. But it'll be a bit of an anti-climactic affair as the World Driving Champion and Constructor's Championship have already been decided (Jenson Button and Brawn-Mercedes Grand Prix, respectively). And GM's Bob Lutz takes on the competition during a private race/testing session pitting Lutz and a Cadillac CTS-V against the best the world has to offer … So who won? We'll tell you. The call-in number is: 213-341-4353. Join in!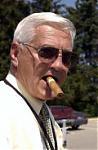 Bob Lutz and his standard-issue Detroit executive heater ...

Podcasts of both shows are available one hour after the live shows conclude. That's this Saturday at our NEW TIME of 11am Pacific/2pm eastern and Sunday at 5pm Pacific/8pm Eastern time every week on www.TalkRadioOne.com!
Follow Steve Parker on Twitter: www.twitter.com/autojourno