Today, Roger Penske called-off talks for his takeover of Saturn, almost certainly dooming yet another General Motors division.
For so many months, it's seemed like a slam dunk for one of the auto world's smartest and richest executives.
Penske, whose racing team has won a record 15 Indy 500s, had come to agreement with GM to take over their once-vaunted Saturn brand, keeping the stores open and workers making cars.
It appeared to be great deal for Penske; he would initially buy cars from GM to sell as Saturns at his stores, then in another two years work with another carmaker which would supply the cars, branded with the familiar "Saturn" name.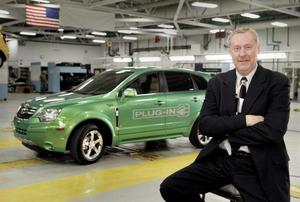 A GM exec with a car which will never be; a 2010 Saturn plug-in hybrid
Though details were never forthcoming, many thought Penske was getting Saturn for next-to-nothing. He would supply the approximately 250 dealers with cars and trucks; he wouldn't have to make the cars, he wouldn't have to sell them; just be the go-between the factory and dealers. He was going to be a car distributor.
But that "other" carmaker, never officially named, the one Penske needed to supply him and his Saturn stores with vehicles, dropped out of the negotiations when, according to Penske, that company's board of directors balked.
So as of today, he has nothing to distribute.
GM said after the Penske announcement that they would begin "winding down" Saturn as a corporate division.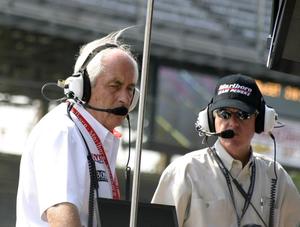 Roger Penske at his favorite weekend hobby; in the pits, running his IndyCar team
It's an ignominious and atypical end to the deal for Penske. He's used to being in close control of his vast business empire (he's the world's biggest car dealer, for one thing), and that another carmaker's board of directors would doom his dream must especially chafe.
Penske's failure will almost certainly result in Saturn's demise, and publicly, officially and finally ends the Roger Smith era at GM.
Smith (the "Roger" in Michael Moore's first film, Roger and Me) was ultimately considered something of an uninformed buffoon by the time he left his GM CEO position. He didn't speak well in public and always seemed ill-at-ease at media events, But he was also something of a visionary, if not always as detailed as he should have been, with his creation of Saturn and he was a tough political in-fighter who held some sway over GM for years after he officially left.
Smith created Saturn in the early 1990s specifically to do battle with the Asian imports. Dealerships would be open and friendly, prices would be "no haggle" and buyers would be treated with respect.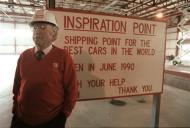 Roger Smith at the Saturn factory he built
Continue reading "PENSKE DROPS SATURN BID; GM SAYS DIVISION DOOMED ... SO WHAT HAPPENED???" »