Chrysler's 1988 to 1990 TC Maserati (now owned by Fiat) was an example of Chrysler management often feeling that doing anything was better than nothing in any attempt to help the corporation; they were wrong about that, too, unfortunately



And so it begins: Making bankruptcy sound like a fun thing to do on a slow spring afternoon, Barack Obama today "congratulated" Chrysler on the "opportunity" of Chapter 11 and if I were GM, I wouldn't be getting too friendly with this guy and his staff at the next White House cocktail party. I mean, look at what happens to companies he likes.
Chrysler filed for bankruptcy protection Thursday in New York under Section 363(b) of Chapter 11 of the bankruptcy code -- and officials hope Chrysler will stay in bankruptcy for just 30- to-60 days.
The company's merger with Italian giant Fiat has also been approved by the White House, and former Chrysler owner Daimler is giving-up their 20% stake in the Highland Park, MI, car-maker. Fiat will shut-down their Euro car-making operations for as long as two months over the summer to prepare for the Chrysler deal; the first Fiat-Chrysler made-in-USA cars might not appear for at least two years.
In a 15-minute speech announcing these moves this morning at the White House, President Barack Obama praised those who have made shared sacrifice to try and save the iconic American company, including Chrysler management, the UAW, creditors which agreed to accept as little as 33% on the dollar for their securitized Chrysler debt holdings, new Chrysler partner Fiat and old partner Daimler.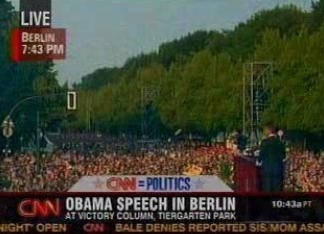 Obama speaks before the 2008 US elections in Berlin in front of an estimated 300,000; the speech was reminiscent of JFK's famous June, 1963 "Ich bin ein Berliner" ("I am a Berliner") speech. Today, Obama told us that, like it or not, we are all Chrysler, with important stakes in the company, from our shared national and institutional memories of it to the US middle-class which the company helped in great part to create
He also blasted in plain and no uncertain terms "hedge funds," "speculators" and other investors and creditors who refused to support the government's efforts to have them cut the amount of Chrysler debt they hold.
"I stand with the Chrysler employees and their families, dealers and communities. I do not stand with those who won't help out when everyone else is supporting," Obama said.
Chrysler will idle most of its plants during its time in bankruptcy.
The shutdown begins Monday and will stretch through the 30 to 60 days it is expected to take to restructure in Chapter 11 bankruptcy, the company said in a statement today.
Chrysler has 12 assembly plants, including eight in the United States. It also owns and operates five North American engine plants, six stamping plants and seven transmission and parts plants.
Chrysler has 26,000 UAW workers and 10,000 represented by the Canadian Auto Workers.

Obama said Fiat is planning to bring "billions" in technology and car-making ability to the US quickly, and that the Canadian government and the Canadian Auto Workers have also approved the deal (Chrysler has extensive facilities in Canada).
Apparently, Chrysler CEO Robert Nardelli was among those who didn't wholly support the White House's plan.
"We would have preferred not to use this 'surgical bankruptcy,' Nardelli was quoted as saying by CNBC, "An inordinate amount of time went into creating this plan. This is a bittersweet moment for me."

Incumbent Chrysler CEO Robert Nardelli introduces some Chrysler EV concepts at a 2008 press conference; the dream cars weren't enough to catch public - or investor - interest, and Nardelli will leave his Chrysler post, at the latest, when the company emerges from bankruptcy