F1's first race of the season gets underway in Australia
Two of the three oldest drivers in Formula 1 racing started one - two and finished the same way in the season-opener of the world's most prestigious and expensive racing series at the Grand Prix of Melbourne (Australia).
Drivers Jenson Button and Rubens Barrichello are members of a team which didn't even exist a month ago, Brawn GP.
The two drivers are relatively old for the sport, but age also brings experience and skill, and both drivers and their team ran a smart, determined and aggressive race.
Italian Jarno Trulli took third place for Toyota, the world's largest car maker.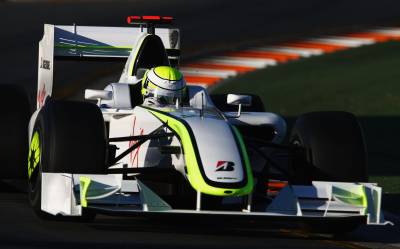 Jenson Button started first and finished first in the F1 season-opener in Oz
Reigning World Driving Champion Lewis Hamilton of the UK started 18th on the 20-car grid and finished fourth, by passing other cars and attrition, winning points for himself and the McLaren Mercedes team as he began defending his title.
The race saw the safety car, the F1 equivalent of the yellow flag in American racing, deployed twice.
After the race's start, Button never looked back in the 58 lap event, establishing a huge lead in the first lap.

The UK's Ross Brawn, one of the top engineers and strategists in F1, who had a strong hand in creating the glory days of F1 teams including Benetton and Ferrari, just a month ago put together a leveraged buy-out of the former Honda F1 team.
Honda, an on-again, off-again force in the sport since the 1960's, and the first Japanese company to enter the world of F1, and made an American driver, Richie Ginther, the team's star (see the movie "Grand Prix" starring Toshiro Mifuni as Mr. Honda and James Garner as Ginther).
Honda left F1 during the recent off-season, saying the huge budget which F1 demands (estimated at over $400 million annually for competitive teams) could not be justified during the worldwide recession.
In fact, apart from Richard Branson's Virgin Air, there were almost no sponsor logos on the Brawn GP cars. We predict that will change before the series' next race.

Sir Richard Branson appeared to have a good time at the F1 season-opener
Continue reading "F1 SHOCKER! ALL-NEW BRAWN GP TEAM STARTS 1 - 2 AND FINISHES THE SAME WAY" »