(Cadillac displayed this concept called "Converj" at January's Detroit Auto Show; GM said it uses the same plug-in hybrid drivetrain which will be found on the Chevrolet Volt. Chances of being produced? None).
He was shallow, patronizing, hitting old worn-out themes and appeared visibly nervous.
But enough about Louisiana Gov. Bobby Jindal and his Republican "response" to President Barack Obama's enthusiastic, encouraging address to a joint session of Congress, and the nation, Tuesday night.
Mr. Obama took time during the speech to address one of the great concerns of all Americans and the world, the state of our domestic auto industry.
About midway through his near one hour presentation (which seemed like about 15 minutes to me), Pres. Obama said, "As for our auto industry, everyone recognizes that years of bad decision-making and a global recession have pushed our automakers to the brink. We should not, and will not, protect them from their own bad practices.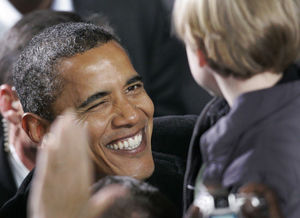 (President Barack Obama tries his Sarah Palin impression on a young child).
"But we are committed to the goal of a re-tooled, re-imagined auto industry that can compete and win. Millions of jobs depend on it. Scores of communities depend on it. And I believe the nation that invented the automobile cannot walk away from it."
He also said, "We know the country that harnesses the power of clean, renewable energy will lead the 21st century. And yet, it is China that has launched the largest effort in history to make their economy energy efficient. We invented solar technology, but we've fallen behind countries like Germany and Japan in producing it. New plug-in hybrids roll off our assembly lines, but they will run on batteries made in Korea."
Didn't like his approach on that one too much; seemed a bit too jingoistic. And where can I buy one of our "plug-in hybrids?"
Maybe no one had told President Obama that General Motors has just founded, in Ann Arbor, MI, the future-research Advanced Battery Coalition for Drivetrains, along with the University of Michigan. We'll give him a pass, though; it was really his first big speech as president,.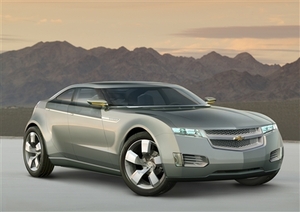 (Is this Chevrolet Volt one of the plug-in hybrids which Mr. Obama referred to in his address to Congress? Hate to bring this up, but this car ain't rollin' off any American assembly lines anytime soon).
Americans need to know that every car maker outside the US is suffering and already scared to death, not only of what's happening to sales in their own home markets, but of the depression which has gripped the largest car and truck market in the world, the US.
Continue reading "OBAMA ON THE AUTO INDUSTRY IN TUESDAY'S JOINT SESSION OF CONGRESS SPEECH" »