(Computer-enhanced styling study of Fisker's extended-range plug-in hybrid Karma S hardtop convertible).
It's the kind of positive image and auto industry credibility which no new car company could possibly afford to buy, but only hope to develop over decades.
But we've learned exclusively that one of the nation's largest auto dealer groups has been signed by Fisker Automotive to carry their sedan and hardtop convertible Karma plug-in hybrid models, which will use an extended-range gasoline/electric hybrid system similar to that developed by General Motors for their Chevrolet Volt and Euro-market Opel Ampera.
And the young carmaker says achieving 100 mpg with Karma is not out of the question.
According to industry journal Automotive News, the influential Ron Tonkin Automotive Group owns some 15 dealerships in and around the Portland, OR area. AN says it is the #81 dealership group in the US with 2007 sales of almost 23,000 new, used and fleet cars and trucks for $466 million. Tonkin will be Fisker's exclusive Oregon state dealership.

Unlike many of the megadealer groups which have been created through complicated finance deals by Wall Street firms in recent years, Tonkin started the company on his own with a single Chevrolet dealership in 1960 and still has control over the now-vast company. Tonkin, a former president of the National Automobile Dealers Association (NADA), has among his stores the nation's oldest Ferrari and Maserati factory-franchised dealerships.
Tonkin's MotoCorsa store sells Ducati, Aprilia and MV Augusta motorcycles. I know him; he's a sporty guy.
From Southern California through the "smile belt" through Phoenix, Dallas to Miami and north to Atlanta, Asian models have been king of the car world for some time. However, travel just 100 miles north of Los Angeles, on the coast to Santa Barbara and continuing through San Francisco, Portland and Seattle, and the automotive sporting and racing aesthetic is Euro-oriented, much more like that found in America's Northeast.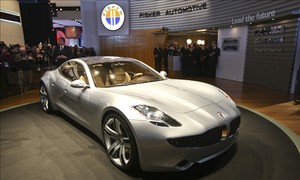 (Fisker Karma at least year's Detroit Auto Show).
That's one big reason there are no large paved oval race tracks from north of the Los Angeles basin to the Canadian border; only serious road racing courses. NASCAR has tried for years to build an oval track in Washington state, but has been refused by local governments every time.
Tonkin's been right before; he's hoping, nay, expecting to hit yet another home run with Fisker. Tonkin is that great eternal optimist like all successful car dealers (and salespeople of all kinds) who must by nature be positive and enthusiastic, never-say-die men and women; keep in mind he was president of the nation's major car dealer organization, NADA. He is a super-salesman, tempered with the mind to have known a sure thing or two when he was first to see it coming.
According to Tonkin, the Fisker factory has received orders for 931 Karmas.
Henrik Fisker, a former designer for BMW, Ford and Aston Martin says each Karma, both the four-door, four-seat sedan and two-door, four-seat hardtop convertible S model, will be built to each customers' specifications.
Continue reading "EXCLUSIVE! MAJOR DEALER GROUP TO SELL FISKER KARMA HYBRID" »