(In 2008, British TV and radio personality Chris Evans purchased this car, the most expensive Ferrari ever sold, at auction. He spent nearly $7,200,000 on this black 1961 Ferrari 250 GT California Spyder. The previous owner of the Ferrari was actor -- and long-time Japanese TV pitchman for Lark cigarettes -- James Coburn).
No one, least of all me, thought that the auto industry was going to be the #1 or #2 story in the world this year; we always knew Detroit would someday go through what they're experiencing now, but never expected all of this to happen so soon. It's been, as we used to say, a real trip.
As in our previous post about the most significant Detroit Three cars, this list is in no particular order and rather than naming a "best" or "most fun" or "best-looking," these are choices currently in showrooms or arriving there soon, all of which have some important feature or combination of features which makes them interesting and/or important. And we want to hear from you how we're right or wrong, and also want to know what cars should be on our list - but aren't.
2009 NISSAN ALTIMA HYBRID
On-sale now.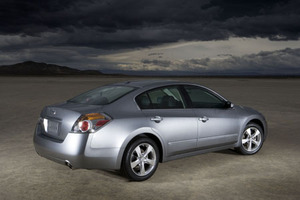 Nissan pays Toyota for borrowing their well-evolved hybrid system for Altima hybrid models, the company's first and still-only hybrid offering. Renault/Nissan chief executive Carlos Ghosn (pro: "Gone") says the real "next step" in automotive technology are full EVs, using advanced batteries, which Nissan has been developing for the past four (or more) years; the first Nissan EV should be in the US by year 2010. Nissan is selling a hybrid, says Ghosn, only because Americans expect them to offer one. The company's 2010 Maxima is available with a clean diesel engine, so Nissan is giving customers a choice of technologies. Hybrid mileage figures are 35 in-town, 33 highway. Base price is $26,650.
2009 EURO CLEAN DIESELS: AUDI, MERCEDES-BENZ, VOLKSWAGEN
Various models on-sale now.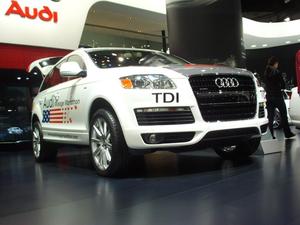 (One of the clean diesel-equipped Audi SUVs which participated in a cross-country, NYC to LA trek with several other Audis and achieved more than 38mpg overall - Steve Parker photo).
Once California's Air Resources Board (CARB) approved clean diesel engines for sale in the Golden State, that opened the floodgates for their sale in all 50 states. Audi, Mercedes-Benz and Volkswagen all have clean diesel models in their US showrooms now; Detroit says clean diesels will be available in 2010, first in their full-size pickups. There are several large-scale projects nationwide to retrofit big rig truck engines with clean diesel technology; that's more than 11 million engines. VW's Jetta TDI starts at $21,990.
Continue reading "TEN MOST SIGNIFICANT IMPORT CARS OF 2008 AND BEYOND" »