(Ferrari's all-new California, above, claimed the "Most Eponymous Car Award" at the 2008 Los Angeles Auto Show. It's not a bad-looking little piece, either).
How anxious are the Detroit Three carmakers to make sales?
My wife and I were at the Los Angeles Auto Show last night, "Black Friday," at the Los Angeles Convention Center. At the hustling and bustling Ford display, several Ford employees approached us with an almost unheard-of offer: If we agreed to test drive - just test drive - a new Ford Fusion, Ford would give us $50.
That's desperation.
Even more frightening, it also means I might finally look respectable enough to appear a model, trustworthy citizen. The kind of guy you'd like to test-drive one of your cars. Ah, where did I go wrong?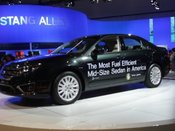 (Ford's alll-new gas/electric hybrid Fusion, twin car to the Mercury Milan, had trouble outdoing the excitement of the 2010 Mustang at the LA Auto Show, but Ford staffers told me they were getting a lot of interest - very welcome interest - in Ford's second-generation hybrids).
In Ford's large exhibit area, replete with spinning DJs (or is it "DJs spinning?"), video crews, Las Vegas-style electronic billboards and even a magician performing close-up tricks to entertain kids while mom and dad car-shop, my wife filled-out a form to enter some sort of contest. The next day - today - she got a call from one of our local Ford dealers (and we live 100 miles from downtown Los Angeles), asking her if she would come to their dealership and test-drive one or a few new cars.
With our emphasis on green and/or significant cars and trucks, let's make our final visit to this year's Los Angeles Auto Show.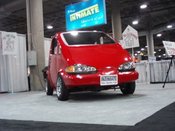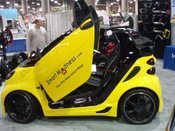 (Intimate was handing-out info on their EV, a glorified golf cart with few amenities, the kind of EV which makes many people edgy about the whole green concept. To the right is the handiwork of a company called Smart Madness ... Adding horizontal doors to the Smart. Legendary King of the Kustomizers, Hollywood's George Barris, showed a similar car at the recent SEMA Show in Las Vegas, but, naturally, Barris' was a Batman tribute car; Barris built the real Batmobile, too).
Continue reading "LA AUTO SHOW PART TWO, WHERE MUSTANGS AND CAMAROS SELL HYBRIDS AND EVs " »